Thalia Hall hosts a variety of different events all year and some top events are coming up. Buy Thalia Hall tickets and don't miss out the unforgettable fun in Chicago.

Tickets4Chicago.com is the best place to get cheap Thalia Hall tickets. You can check Thalia Hall seating chart, events dates, schedule and tickets prices. We offer 100% buyers guarantee through the SSL secure transaction and you will receive authentic and discount Thalia Hall tickets in time for the event.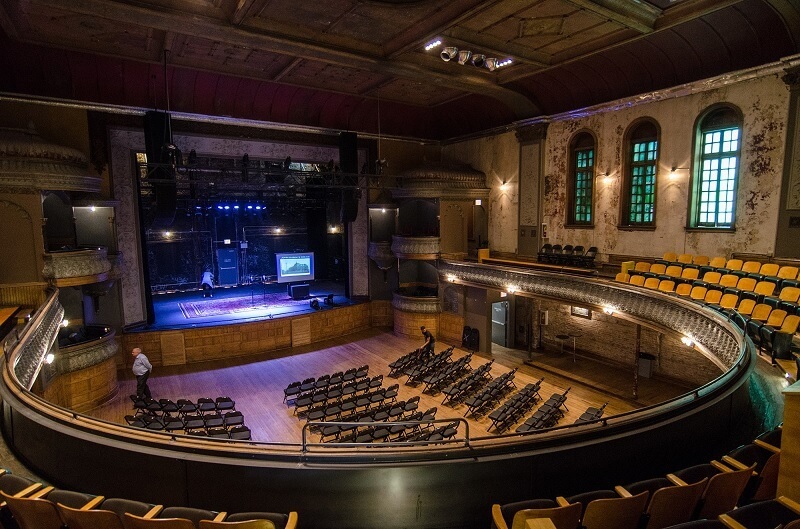 Cheap Thalia Hall Tickets
We also have Thalia Hall discount coupon promo code available. Use discount code "CHICAGO" on checkout and get 3% extra discount on Thalia Hall tickets.
Thalia Hall Tour
| | | | |
| --- | --- | --- | --- |
| Ty Segall & Freedom Band tickets Thalia Hall Chicago, Illinois | 1/23/2022 20:30 | $67 | View Tickets |
| Ty Segall & Freedom Band tickets Thalia Hall Chicago, Illinois | 1/24/2022 20:30 | $167 | View Tickets |
| Fucked Up tickets Thalia Hall Chicago, Illinois | 1/27/2022 20:30 | $40 | View Tickets |
| Samia tickets Thalia Hall Chicago, Illinois | 1/30/2022 19:00 | $57 | View Tickets |
| The Minimalists tickets Thalia Hall Chicago, Illinois | 2/03/2022 19:00 | $61 | View Tickets |
| Railroad Earth tickets Thalia Hall Chicago, Illinois | 2/04/2022 20:00 | $51 | View Tickets |
| Pinegrove tickets Thalia Hall Chicago, Illinois | 2/08/2022 20:00 | $55 | View Tickets |
| Pinegrove tickets Thalia Hall Chicago, Illinois | 2/09/2022 20:00 | $41 | View Tickets |
| Jamestown Revival tickets Thalia Hall Chicago, Illinois | 2/10/2022 20:00 | $46 | View Tickets |
| Current Joys tickets Thalia Hall Chicago, Illinois | 2/12/2022 20:30 | $85 | View Tickets |
| Cate Le Bon tickets Thalia Hall Chicago, Illinois | 2/14/2022 20:30 | $40 | View Tickets |
| Lucy Dacus tickets Thalia Hall Chicago, Illinois | 2/15/2022 20:00 | $ | View Tickets |
| Twin Shadow tickets Thalia Hall Chicago, Illinois | 2/16/2022 20:30 | $36 | View Tickets |
| Waxahatchee tickets Thalia Hall Chicago, Illinois | 2/20/2022 20:30 | $134 | View Tickets |
| Waxahatchee & Madi Diaz tickets Thalia Hall Chicago, Illinois | 2/21/2022 20:30 | $64 | View Tickets |
| Waxahatchee & Madi Diaz tickets Thalia Hall Chicago, Illinois | 2/21/2022 20:30 | $64 | View Tickets |
| serpentwithfeet tickets Thalia Hall Chicago, Illinois | 2/22/2022 20:30 | $40 | View Tickets |
| Shame tickets Thalia Hall Chicago, Illinois | 2/23/2022 20:30 | $40 | View Tickets |
| Houndmouth tickets Thalia Hall Chicago, Illinois | 2/25/2022 20:00 | $86 | View Tickets |
| Houndmouth tickets Thalia Hall Chicago, Illinois | 2/26/2022 20:00 | $76 | View Tickets |
| The Staves tickets Thalia Hall Chicago, Illinois | 2/27/2022 20:00 | $40 | View Tickets |
| The Microphones tickets Thalia Hall Chicago, Illinois | 3/02/2022 20:30 | $28 | View Tickets |
| Wet Leg tickets Thalia Hall Chicago, Illinois | 3/04/2022 22:00 | $112 | View Tickets |
| We Banjo 3 tickets Thalia Hall Chicago, Illinois | 3/09/2022 20:00 | $76 | View Tickets |
| Scary Pockets tickets Thalia Hall Chicago, Illinois | 3/10/2022 19:00 | $113 | View Tickets |
| Hiss Golden Messenger tickets Thalia Hall Chicago, Illinois | 3/11/2022 20:00 | $49 | View Tickets |
| Deafheaven tickets Thalia Hall Chicago, Illinois | 3/14/2022 20:30 | $49 | View Tickets |
| The Tallest Man on Earth tickets Thalia Hall Chicago, Illinois | 3/16/2022 20:00 | $64 | View Tickets |
| Godspeed You! Black Emperor tickets Thalia Hall Chicago, Illinois | 3/19/2022 20:30 | $132 | View Tickets |
| Godspeed You! Black Emperor tickets Thalia Hall Chicago, Illinois | 3/20/2022 20:30 | $66 | View Tickets |
| St. Paul and The Broken Bones tickets Thalia Hall Chicago, Illinois | 3/22/2022 20:00 | $57 | View Tickets |
| St. Paul and The Broken Bones tickets Thalia Hall Chicago, Illinois | 3/23/2022 20:00 | $54 | View Tickets |
| Galactic tickets Thalia Hall Chicago, Illinois | 3/25/2022 20:30 | $66 | View Tickets |
| Colin Hay tickets Thalia Hall Chicago, Illinois | 3/26/2022 20:00 | $161 | View Tickets |
| Russell Howard tickets Thalia Hall Chicago, Illinois | 3/27/2022 19:30 | $59 | View Tickets |
| Russell Howard tickets Thalia Hall Chicago, Illinois | 3/27/2022 22:00 | $62 | View Tickets |
| Perfume Genius & Hand Habits tickets Thalia Hall Chicago, Illinois | 3/29/2022 20:30 | $57 | View Tickets |
| Perfume Genius & Hand Habits tickets Thalia Hall Chicago, Illinois | 3/29/2022 20:30 | $57 | View Tickets |
| Uncle Acid and The Deadbeats & King Buffalo tickets Thalia Hall Chicago, Illinois | 3/30/2022 20:00 | $57 | View Tickets |
| Uncle Acid and The Deadbeats & King Buffalo tickets Thalia Hall Chicago, Illinois | 3/30/2022 20:00 | $57 | View Tickets |
| Shovels and Rope tickets Thalia Hall Chicago, Illinois | 3/31/2022 20:00 | $51 | View Tickets |
| Nation of Language tickets Thalia Hall Chicago, Illinois | 4/01/2022 20:30 | $41 | View Tickets |
| Nigel Ng tickets Thalia Hall Chicago, Illinois | 4/02/2022 19:00 | $55 | View Tickets |
| Chris Renzema tickets Thalia Hall Chicago, Illinois | 4/04/2022 19:00 | $40 | View Tickets |
| Kishi Bashi tickets Thalia Hall Chicago, Illinois | 4/05/2022 19:30 | $42 | View Tickets |
| We Were Promised Jetpacks tickets Thalia Hall Chicago, Illinois | 4/06/2022 20:00 | $40 | View Tickets |
| Altin Gun & Pachyman tickets Thalia Hall Chicago, Illinois | 4/07/2022 20:30 | $40 | View Tickets |
| Altin Gun & Pachyman tickets Thalia Hall Chicago, Illinois | 4/07/2022 20:30 | $40 | View Tickets |
| The Dip tickets Thalia Hall Chicago, Illinois | 4/08/2022 19:00 | $40 | View Tickets |
| Hurray For The Riff Raff tickets Thalia Hall Chicago, Illinois | 4/09/2022 20:30 | $33 | View Tickets |
| Watchhouse (Mandolin Orange) tickets Thalia Hall Chicago, Illinois | 4/10/2022 20:00 | $76 | View Tickets |
| Tom Odell tickets Thalia Hall Chicago, Illinois | 4/12/2022 19:30 | $47 | View Tickets |
| Henry Rollins tickets Thalia Hall Chicago, Illinois | 4/17/2022 20:00 | $66 | View Tickets |
| Henry Rollins tickets Thalia Hall Chicago, Illinois | 4/18/2022 20:00 | $58 | View Tickets |
| Fuzz tickets Thalia Hall Chicago, Illinois | 4/19/2022 19:30 | $48 | View Tickets |
| Moonchild tickets Thalia Hall Chicago, Illinois | 4/21/2022 20:00 | $45 | View Tickets |
| Typhoon tickets Thalia Hall Chicago, Illinois | 4/23/2022 20:30 | $49 | View Tickets |
| Passenger tickets Thalia Hall Chicago, Illinois | 4/26/2022 19:30 | $90 | View Tickets |
| And That's Why We Drink Podcast tickets Thalia Hall Chicago, Illinois | 4/28/2022 19:00 | $42 | View Tickets |
| And That's Why We Drink Podcast tickets Thalia Hall Chicago, Illinois | 4/28/2022 22:00 | $159 | View Tickets |
| Fruit Bats tickets Thalia Hall Chicago, Illinois | 4/29/2022 20:00 | $49 | View Tickets |
| Lingua Ignota tickets Thalia Hall Chicago, Illinois | 5/04/2022 20:00 | $49 | View Tickets |
| The Mavericks tickets Thalia Hall Chicago, Illinois | 5/05/2022 20:00 | $57 | View Tickets |
| The Mavericks tickets Thalia Hall Chicago, Illinois | 5/06/2022 20:00 | $63 | View Tickets |
| Helado Negro tickets Thalia Hall Chicago, Illinois | 5/09/2022 20:30 | $49 | View Tickets |
| Sleaford Mods tickets Thalia Hall Chicago, Illinois | 5/11/2022 20:30 | $50 | View Tickets |
| Destroyer tickets Thalia Hall Chicago, Illinois | 5/12/2022 20:00 | $49 | View Tickets |
| Nilufer Yanya tickets Thalia Hall Chicago, Illinois | 5/13/2022 20:00 | $44 | View Tickets |
| Palace - Band tickets Thalia Hall Chicago, Illinois | 5/14/2022 19:30 | $40 | View Tickets |
| Homeshake tickets Thalia Hall Chicago, Illinois | 5/25/2022 20:30 | $43 | View Tickets |
| The Antlers tickets Thalia Hall Chicago, Illinois | 5/31/2022 20:00 | $54 | View Tickets |
| Olafur Arnalds tickets Thalia Hall Chicago, Illinois | 6/02/2022 19:00 | $76 | View Tickets |
| Aldous Harding tickets Thalia Hall Chicago, Illinois | 6/03/2022 20:30 | $44 | View Tickets |
| La Femme tickets Thalia Hall Chicago, Illinois | 6/14/2022 20:30 | $38 | View Tickets |
| Eivor tickets Thalia Hall Chicago, Illinois | 8/01/2022 20:30 | $40 | View Tickets |
| Yola tickets Thalia Hall Chicago, Illinois | 9/13/2022 20:00 | $49 | View Tickets |
| Tindersticks tickets Thalia Hall Chicago, Illinois | 3/30/2070 3:30 | $81 | View Tickets |
| Thao and the Get Down Stay Down tickets Thalia Hall Chicago, Illinois | 7/16/2070 3:30 | $59 | View Tickets |
| Built To Spill tickets Thalia Hall Chicago, Illinois | 8/12/2070 3:30 | $65 | View Tickets |
| STRFKR tickets Thalia Hall Chicago, Illinois | 2/02/2072 20:30 | $68 | View Tickets |
Ty Segall & Freedom Band Thalia Hall Seating Chart