CIBC Theatre hosts a variety of different events all year and some top events are coming up. Buy CIBC Theatre tickets and don't miss out the unforgettable fun in Chicago.

Tickets4Chicago.com is the best place to get cheap CIBC Theatre tickets. You can check CIBC Theatre seating chart, events dates, schedule and tickets prices. We offer 100% buyers guarantee through the SSL secure transaction and you will receive authentic and discount CIBC Theatre tickets in time for the event.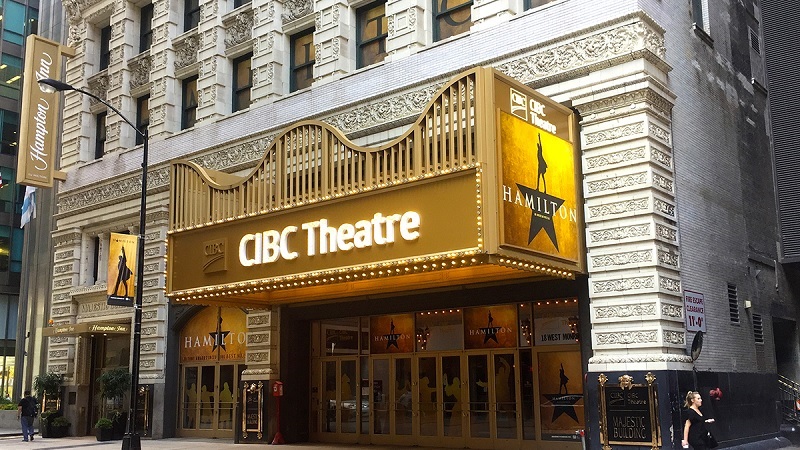 Cheap CIBC Theatre Tickets
We also have CIBC Theatre discount coupon promo code available. Use discount code "CHICAGO" on checkout and get 3% extra discount on CIBC Theatre tickets.
CIBC Theatre Tour
| | | | |
| --- | --- | --- | --- |
| Oklahoma! tickets CIBC Theatre Chicago, Illinois | 1/18/2022 19:30 | $67 | View Tickets |
| Oklahoma! tickets CIBC Theatre Chicago, Illinois | 1/19/2022 14:00 | $69 | View Tickets |
| Oklahoma! tickets CIBC Theatre Chicago, Illinois | 1/19/2022 19:30 | $69 | View Tickets |
| Oklahoma! tickets CIBC Theatre Chicago, Illinois | 1/20/2022 19:30 | $46 | View Tickets |
| Oklahoma! tickets CIBC Theatre Chicago, Illinois | 1/21/2022 19:30 | $31 | View Tickets |
| Oklahoma! tickets CIBC Theatre Chicago, Illinois | 1/22/2022 14:00 | $28 | View Tickets |
| Oklahoma! tickets CIBC Theatre Chicago, Illinois | 1/22/2022 20:00 | $34 | View Tickets |
| Oklahoma! tickets CIBC Theatre Chicago, Illinois | 1/23/2022 14:00 | $31 | View Tickets |
| Hairspray tickets CIBC Theatre Chicago, Illinois | 2/01/2022 19:30 | $63 | View Tickets |
| Hairspray tickets CIBC Theatre Chicago, Illinois | 2/02/2022 19:30 | $71 | View Tickets |
| Hairspray tickets CIBC Theatre Chicago, Illinois | 2/03/2022 19:30 | $71 | View Tickets |
| Hairspray tickets CIBC Theatre Chicago, Illinois | 2/04/2022 19:30 | $78 | View Tickets |
| Hairspray tickets CIBC Theatre Chicago, Illinois | 2/05/2022 14:00 | $89 | View Tickets |
| Hairspray tickets CIBC Theatre Chicago, Illinois | 2/05/2022 20:00 | $77 | View Tickets |
| Hairspray tickets CIBC Theatre Chicago, Illinois | 2/06/2022 14:00 | $105 | View Tickets |
| Hairspray tickets CIBC Theatre Chicago, Illinois | 2/06/2022 19:30 | $71 | View Tickets |
| Hairspray tickets CIBC Theatre Chicago, Illinois | 2/08/2022 19:30 | $71 | View Tickets |
| Hairspray tickets CIBC Theatre Chicago, Illinois | 2/09/2022 14:00 | $71 | View Tickets |
| Hairspray tickets CIBC Theatre Chicago, Illinois | 2/09/2022 19:30 | $71 | View Tickets |
| Hairspray tickets CIBC Theatre Chicago, Illinois | 2/10/2022 19:30 | $71 | View Tickets |
| Hairspray tickets CIBC Theatre Chicago, Illinois | 2/11/2022 19:30 | $39 | View Tickets |
| Hairspray tickets CIBC Theatre Chicago, Illinois | 2/12/2022 14:00 | $52 | View Tickets |
| Hairspray tickets CIBC Theatre Chicago, Illinois | 2/12/2022 20:00 | $39 | View Tickets |
| Hairspray tickets CIBC Theatre Chicago, Illinois | 2/13/2022 14:00 | $55 | View Tickets |
| The Simon & Garfunkel Story tickets CIBC Theatre Chicago, Illinois | 2/22/2022 19:30 | $56 | View Tickets |
| The Simon & Garfunkel Story tickets CIBC Theatre Chicago, Illinois | 2/23/2022 19:30 | $58 | View Tickets |
| The Simon & Garfunkel Story tickets CIBC Theatre Chicago, Illinois | 2/24/2022 19:30 | $58 | View Tickets |
| The Simon & Garfunkel Story tickets CIBC Theatre Chicago, Illinois | 2/25/2022 19:30 | $59 | View Tickets |
| The Simon & Garfunkel Story tickets CIBC Theatre Chicago, Illinois | 2/26/2022 14:00 | $73 | View Tickets |
| The Simon & Garfunkel Story tickets CIBC Theatre Chicago, Illinois | 2/26/2022 20:00 | $73 | View Tickets |
| The Simon & Garfunkel Story tickets CIBC Theatre Chicago, Illinois | 2/27/2022 14:00 | $66 | View Tickets |
| The Simon & Garfunkel Story tickets CIBC Theatre Chicago, Illinois | 2/27/2022 19:00 | $58 | View Tickets |
| Hadestown tickets CIBC Theatre Chicago, Illinois | 3/02/2022 19:30 | $143 | View Tickets |
| Hadestown tickets CIBC Theatre Chicago, Illinois | 3/03/2022 14:00 | $146 | View Tickets |
| Hadestown tickets CIBC Theatre Chicago, Illinois | 3/03/2022 19:30 | $66 | View Tickets |
| Hadestown tickets CIBC Theatre Chicago, Illinois | 3/04/2022 19:30 | $103 | View Tickets |
| Hadestown tickets CIBC Theatre Chicago, Illinois | 3/05/2022 14:00 | $79 | View Tickets |
| Hadestown tickets CIBC Theatre Chicago, Illinois | 3/05/2022 20:00 | $147 | View Tickets |
| Hadestown tickets CIBC Theatre Chicago, Illinois | 3/06/2022 14:00 | $165 | View Tickets |
| Hadestown tickets CIBC Theatre Chicago, Illinois | 3/06/2022 19:30 | $146 | View Tickets |
| Hadestown tickets CIBC Theatre Chicago, Illinois | 3/08/2022 19:30 | $146 | View Tickets |
| Hadestown tickets CIBC Theatre Chicago, Illinois | 3/09/2022 14:00 | $146 | View Tickets |
| Hadestown tickets CIBC Theatre Chicago, Illinois | 3/09/2022 19:30 | $146 | View Tickets |
| Hadestown tickets CIBC Theatre Chicago, Illinois | 3/10/2022 19:30 | $146 | View Tickets |
| Hadestown tickets CIBC Theatre Chicago, Illinois | 3/11/2022 19:30 | $140 | View Tickets |
| Hadestown tickets CIBC Theatre Chicago, Illinois | 3/12/2022 14:00 | $119 | View Tickets |
| Hadestown tickets CIBC Theatre Chicago, Illinois | 3/13/2022 14:00 | $79 | View Tickets |
| Six The Musical tickets CIBC Theatre Chicago, Illinois | 3/29/2022 19:30 | $113 | View Tickets |
| Six The Musical tickets CIBC Theatre Chicago, Illinois | 3/30/2022 19:30 | $113 | View Tickets |
| Six The Musical tickets CIBC Theatre Chicago, Illinois | 3/31/2022 19:30 | $113 | View Tickets |
| Six The Musical tickets CIBC Theatre Chicago, Illinois | 4/01/2022 19:30 | $87 | View Tickets |
| Six The Musical tickets CIBC Theatre Chicago, Illinois | 4/02/2022 14:00 | $129 | View Tickets |
| Six The Musical tickets CIBC Theatre Chicago, Illinois | 4/02/2022 20:00 | $81 | View Tickets |
| Six The Musical tickets CIBC Theatre Chicago, Illinois | 4/03/2022 14:00 | $69 | View Tickets |
| Six The Musical tickets CIBC Theatre Chicago, Illinois | 4/03/2022 19:30 | $87 | View Tickets |
| Six The Musical tickets CIBC Theatre Chicago, Illinois | 4/05/2022 19:30 | $98 | View Tickets |
| Six The Musical tickets CIBC Theatre Chicago, Illinois | 4/06/2022 19:30 | $77 | View Tickets |
| Six The Musical tickets CIBC Theatre Chicago, Illinois | 4/07/2022 19:30 | $113 | View Tickets |
| Six The Musical tickets CIBC Theatre Chicago, Illinois | 4/08/2022 19:30 | $109 | View Tickets |
| Six The Musical tickets CIBC Theatre Chicago, Illinois | 4/09/2022 14:00 | $124 | View Tickets |
| Six The Musical tickets CIBC Theatre Chicago, Illinois | 4/09/2022 20:00 | $97 | View Tickets |
| Six The Musical tickets CIBC Theatre Chicago, Illinois | 4/10/2022 14:00 | $127 | View Tickets |
| Six The Musical tickets CIBC Theatre Chicago, Illinois | 4/10/2022 19:30 | $80 | View Tickets |
| Six The Musical tickets CIBC Theatre Chicago, Illinois | 4/12/2022 19:30 | $80 | View Tickets |
| Six The Musical tickets CIBC Theatre Chicago, Illinois | 4/13/2022 14:00 | $80 | View Tickets |
| Six The Musical tickets CIBC Theatre Chicago, Illinois | 4/13/2022 19:30 | $98 | View Tickets |
| Six The Musical tickets CIBC Theatre Chicago, Illinois | 4/14/2022 19:30 | $80 | View Tickets |
| Six The Musical tickets CIBC Theatre Chicago, Illinois | 4/15/2022 19:30 | $90 | View Tickets |
| Six The Musical tickets CIBC Theatre Chicago, Illinois | 4/16/2022 14:00 | $106 | View Tickets |
| Six The Musical tickets CIBC Theatre Chicago, Illinois | 4/16/2022 20:00 | $98 | View Tickets |
| Six The Musical tickets CIBC Theatre Chicago, Illinois | 4/17/2022 14:00 | $102 | View Tickets |
| Six The Musical tickets CIBC Theatre Chicago, Illinois | 4/19/2022 19:30 | $76 | View Tickets |
| Six The Musical tickets CIBC Theatre Chicago, Illinois | 4/20/2022 14:00 | $80 | View Tickets |
| Six The Musical tickets CIBC Theatre Chicago, Illinois | 4/20/2022 19:30 | $76 | View Tickets |
| Six The Musical tickets CIBC Theatre Chicago, Illinois | 4/21/2022 19:30 | $79 | View Tickets |
| Six The Musical tickets CIBC Theatre Chicago, Illinois | 4/22/2022 19:30 | $90 | View Tickets |
| Six The Musical tickets CIBC Theatre Chicago, Illinois | 4/23/2022 14:00 | $105 | View Tickets |
| Six The Musical tickets CIBC Theatre Chicago, Illinois | 4/23/2022 20:00 | $105 | View Tickets |
| Six The Musical tickets CIBC Theatre Chicago, Illinois | 4/24/2022 14:00 | $105 | View Tickets |
| Six The Musical tickets CIBC Theatre Chicago, Illinois | 4/26/2022 19:30 | $76 | View Tickets |
| Six The Musical tickets CIBC Theatre Chicago, Illinois | 4/27/2022 14:00 | $76 | View Tickets |
| Six The Musical tickets CIBC Theatre Chicago, Illinois | 4/27/2022 19:30 | $76 | View Tickets |
| Six The Musical tickets CIBC Theatre Chicago, Illinois | 4/28/2022 19:30 | $77 | View Tickets |
| Six The Musical tickets CIBC Theatre Chicago, Illinois | 4/29/2022 19:30 | $90 | View Tickets |
| Six The Musical tickets CIBC Theatre Chicago, Illinois | 4/30/2022 14:00 | $125 | View Tickets |
| Six The Musical tickets CIBC Theatre Chicago, Illinois | 4/30/2022 20:00 | $105 | View Tickets |
| Six The Musical tickets CIBC Theatre Chicago, Illinois | 5/01/2022 14:00 | $105 | View Tickets |
| Six The Musical tickets CIBC Theatre Chicago, Illinois | 5/03/2022 19:30 | $78 | View Tickets |
| Six The Musical tickets CIBC Theatre Chicago, Illinois | 5/04/2022 14:00 | $77 | View Tickets |
| Six The Musical tickets CIBC Theatre Chicago, Illinois | 5/04/2022 19:30 | $77 | View Tickets |
| Six The Musical tickets CIBC Theatre Chicago, Illinois | 5/05/2022 19:30 | $76 | View Tickets |
| Six The Musical tickets CIBC Theatre Chicago, Illinois | 5/06/2022 19:30 | $90 | View Tickets |
| Six The Musical tickets CIBC Theatre Chicago, Illinois | 5/07/2022 14:00 | $105 | View Tickets |
| Six The Musical tickets CIBC Theatre Chicago, Illinois | 5/07/2022 20:00 | $105 | View Tickets |
| Six The Musical tickets CIBC Theatre Chicago, Illinois | 5/08/2022 14:00 | $105 | View Tickets |
| Six The Musical tickets CIBC Theatre Chicago, Illinois | 5/10/2022 19:30 | $78 | View Tickets |
| Six The Musical tickets CIBC Theatre Chicago, Illinois | 5/11/2022 14:00 | $76 | View Tickets |
| Six The Musical tickets CIBC Theatre Chicago, Illinois | 5/11/2022 19:30 | $76 | View Tickets |
| Six The Musical tickets CIBC Theatre Chicago, Illinois | 5/12/2022 19:30 | $77 | View Tickets |
| Six The Musical tickets CIBC Theatre Chicago, Illinois | 5/13/2022 19:30 | $90 | View Tickets |
| Six The Musical tickets CIBC Theatre Chicago, Illinois | 5/14/2022 14:00 | $105 | View Tickets |
| Six The Musical tickets CIBC Theatre Chicago, Illinois | 5/14/2022 20:00 | $105 | View Tickets |
| Six The Musical tickets CIBC Theatre Chicago, Illinois | 5/15/2022 14:00 | $105 | View Tickets |
| Six The Musical tickets CIBC Theatre Chicago, Illinois | 5/17/2022 19:30 | $77 | View Tickets |
| Six The Musical tickets CIBC Theatre Chicago, Illinois | 5/18/2022 14:00 | $76 | View Tickets |
| Six The Musical tickets CIBC Theatre Chicago, Illinois | 5/18/2022 19:30 | $76 | View Tickets |
| Six The Musical tickets CIBC Theatre Chicago, Illinois | 5/19/2022 19:30 | $77 | View Tickets |
| Six The Musical tickets CIBC Theatre Chicago, Illinois | 5/20/2022 19:30 | $87 | View Tickets |
| Six The Musical tickets CIBC Theatre Chicago, Illinois | 5/21/2022 14:00 | $105 | View Tickets |
| Six The Musical tickets CIBC Theatre Chicago, Illinois | 5/21/2022 20:00 | $105 | View Tickets |
| Six The Musical tickets CIBC Theatre Chicago, Illinois | 5/22/2022 14:00 | $105 | View Tickets |
| Six The Musical tickets CIBC Theatre Chicago, Illinois | 5/24/2022 19:30 | $78 | View Tickets |
| Six The Musical tickets CIBC Theatre Chicago, Illinois | 5/25/2022 14:00 | $76 | View Tickets |
| Six The Musical tickets CIBC Theatre Chicago, Illinois | 5/25/2022 19:30 | $76 | View Tickets |
| Six The Musical tickets CIBC Theatre Chicago, Illinois | 5/26/2022 19:30 | $77 | View Tickets |
| Six The Musical tickets CIBC Theatre Chicago, Illinois | 5/27/2022 19:30 | $86 | View Tickets |
| Six The Musical tickets CIBC Theatre Chicago, Illinois | 5/28/2022 14:00 | $105 | View Tickets |
| Six The Musical tickets CIBC Theatre Chicago, Illinois | 5/28/2022 20:00 | $128 | View Tickets |
| Six The Musical tickets CIBC Theatre Chicago, Illinois | 5/29/2022 14:00 | $105 | View Tickets |
| Six The Musical tickets CIBC Theatre Chicago, Illinois | 5/31/2022 19:30 | $77 | View Tickets |
| Six The Musical tickets CIBC Theatre Chicago, Illinois | 6/01/2022 14:00 | $78 | View Tickets |
| Six The Musical tickets CIBC Theatre Chicago, Illinois | 6/01/2022 19:30 | $77 | View Tickets |
| Six The Musical tickets CIBC Theatre Chicago, Illinois | 6/02/2022 19:30 | $79 | View Tickets |
| Six The Musical tickets CIBC Theatre Chicago, Illinois | 6/03/2022 19:30 | $88 | View Tickets |
| Six The Musical tickets CIBC Theatre Chicago, Illinois | 6/04/2022 14:00 | $104 | View Tickets |
| Six The Musical tickets CIBC Theatre Chicago, Illinois | 6/04/2022 20:00 | $102 | View Tickets |
| Six The Musical tickets CIBC Theatre Chicago, Illinois | 6/05/2022 14:00 | $104 | View Tickets |
| Six The Musical tickets CIBC Theatre Chicago, Illinois | 6/07/2022 19:30 | $77 | View Tickets |
| Six The Musical tickets CIBC Theatre Chicago, Illinois | 6/08/2022 14:00 | $77 | View Tickets |
| Six The Musical tickets CIBC Theatre Chicago, Illinois | 6/08/2022 19:30 | $76 | View Tickets |
| Six The Musical tickets CIBC Theatre Chicago, Illinois | 6/09/2022 19:30 | $79 | View Tickets |
| Six The Musical tickets CIBC Theatre Chicago, Illinois | 6/10/2022 19:30 | $88 | View Tickets |
| Six The Musical tickets CIBC Theatre Chicago, Illinois | 6/11/2022 14:00 | $105 | View Tickets |
| Six The Musical tickets CIBC Theatre Chicago, Illinois | 6/11/2022 20:00 | $104 | View Tickets |
| Six The Musical tickets CIBC Theatre Chicago, Illinois | 6/12/2022 14:00 | $104 | View Tickets |
| Six The Musical tickets CIBC Theatre Chicago, Illinois | 6/14/2022 19:30 | $76 | View Tickets |
| Six The Musical tickets CIBC Theatre Chicago, Illinois | 6/15/2022 14:00 | $76 | View Tickets |
| Six The Musical tickets CIBC Theatre Chicago, Illinois | 6/15/2022 19:30 | $76 | View Tickets |
| Six The Musical tickets CIBC Theatre Chicago, Illinois | 6/16/2022 19:30 | $76 | View Tickets |
| Six The Musical tickets CIBC Theatre Chicago, Illinois | 6/17/2022 19:30 | $88 | View Tickets |
| Six The Musical tickets CIBC Theatre Chicago, Illinois | 6/18/2022 14:00 | $102 | View Tickets |
| Six The Musical tickets CIBC Theatre Chicago, Illinois | 6/18/2022 20:00 | $103 | View Tickets |
| Six The Musical tickets CIBC Theatre Chicago, Illinois | 6/19/2022 14:00 | $105 | View Tickets |
| Six The Musical tickets CIBC Theatre Chicago, Illinois | 6/21/2022 19:30 | $77 | View Tickets |
| Six The Musical tickets CIBC Theatre Chicago, Illinois | 6/22/2022 14:00 | $77 | View Tickets |
| Six The Musical tickets CIBC Theatre Chicago, Illinois | 6/22/2022 19:30 | $78 | View Tickets |
| Six The Musical tickets CIBC Theatre Chicago, Illinois | 6/23/2022 19:30 | $79 | View Tickets |
| Six The Musical tickets CIBC Theatre Chicago, Illinois | 6/24/2022 19:30 | $86 | View Tickets |
| Six The Musical tickets CIBC Theatre Chicago, Illinois | 6/25/2022 14:00 | $104 | View Tickets |
| Six The Musical tickets CIBC Theatre Chicago, Illinois | 6/25/2022 20:00 | $105 | View Tickets |
| Six The Musical tickets CIBC Theatre Chicago, Illinois | 6/26/2022 14:00 | $104 | View Tickets |
| Six The Musical tickets CIBC Theatre Chicago, Illinois | 6/28/2022 19:30 | $77 | View Tickets |
| Six The Musical tickets CIBC Theatre Chicago, Illinois | 6/29/2022 14:00 | $77 | View Tickets |
| Six The Musical tickets CIBC Theatre Chicago, Illinois | 6/29/2022 19:30 | $76 | View Tickets |
| Six The Musical tickets CIBC Theatre Chicago, Illinois | 6/30/2022 19:30 | $78 | View Tickets |
| Six The Musical tickets CIBC Theatre Chicago, Illinois | 7/01/2022 19:30 | $87 | View Tickets |
| Six The Musical tickets CIBC Theatre Chicago, Illinois | 7/02/2022 14:00 | $103 | View Tickets |
| Six The Musical tickets CIBC Theatre Chicago, Illinois | 7/02/2022 20:00 | $103 | View Tickets |
| Six The Musical tickets CIBC Theatre Chicago, Illinois | 7/03/2022 14:00 | $270 | View Tickets |
Oklahoma! CIBC Theatre Seating Chart