Drunk Shakespeare Chicago Tickets
| | | |
| --- | --- | --- |
| Drunk Shakespeare Chicago, Illinois at The Lion Theatre - Chicago | 6/08/2023 19:30 | View Tickets |
| Drunk Shakespeare Chicago, Illinois at The Lion Theatre - Chicago | 6/09/2023 19:00 | View Tickets |
| Drunk Shakespeare Chicago, Illinois at The Lion Theatre - Chicago | 6/09/2023 21:00 | View Tickets |
| Drunk Shakespeare Chicago, Illinois at The Lion Theatre - Chicago | 6/10/2023 17:00 | View Tickets |
| Drunk Shakespeare Chicago, Illinois at The Lion Theatre - Chicago | 6/10/2023 19:00 | View Tickets |
| Drunk Shakespeare Chicago, Illinois at The Lion Theatre - Chicago | 6/10/2023 21:00 | View Tickets |
| Drunk Shakespeare Chicago, Illinois at The Lion Theatre - Chicago | 6/11/2023 17:00 | View Tickets |
| Drunk Shakespeare Chicago, Illinois at The Lion Theatre - Chicago | 6/14/2023 19:30 | View Tickets |
| Drunk Shakespeare Chicago, Illinois at The Lion Theatre - Chicago | 6/15/2023 19:30 | View Tickets |
| Drunk Shakespeare Chicago, Illinois at The Lion Theatre - Chicago | 6/16/2023 19:00 | View Tickets |
| Drunk Shakespeare Chicago, Illinois at The Lion Theatre - Chicago | 6/16/2023 21:00 | View Tickets |
| Drunk Shakespeare Chicago, Illinois at The Lion Theatre - Chicago | 6/17/2023 17:00 | View Tickets |
| Drunk Shakespeare Chicago, Illinois at The Lion Theatre - Chicago | 6/17/2023 19:00 | View Tickets |
| Drunk Shakespeare Chicago, Illinois at The Lion Theatre - Chicago | 6/17/2023 21:00 | View Tickets |
| Drunk Shakespeare Chicago, Illinois at The Lion Theatre - Chicago | 6/18/2023 17:00 | View Tickets |
| Drunk Shakespeare Chicago, Illinois at The Lion Theatre - Chicago | 6/21/2023 19:30 | View Tickets |
| Drunk Shakespeare Chicago, Illinois at The Lion Theatre - Chicago | 6/22/2023 19:30 | View Tickets |
| Drunk Shakespeare Chicago, Illinois at The Lion Theatre - Chicago | 6/23/2023 19:00 | View Tickets |
| Drunk Shakespeare Chicago, Illinois at The Lion Theatre - Chicago | 6/23/2023 21:00 | View Tickets |
| Drunk Shakespeare Chicago, Illinois at The Lion Theatre - Chicago | 6/24/2023 17:00 | View Tickets |
| Drunk Shakespeare Chicago, Illinois at The Lion Theatre - Chicago | 6/24/2023 19:00 | View Tickets |
| Drunk Shakespeare Chicago, Illinois at The Lion Theatre - Chicago | 6/24/2023 21:00 | View Tickets |
| Drunk Shakespeare Chicago, Illinois at The Lion Theatre - Chicago | 6/25/2023 17:00 | View Tickets |
| Drunk Shakespeare Chicago, Illinois at The Lion Theatre - Chicago | 6/28/2023 19:30 | View Tickets |
| Drunk Shakespeare Chicago, Illinois at The Lion Theatre - Chicago | 6/29/2023 19:30 | View Tickets |
| Drunk Shakespeare Chicago, Illinois at The Lion Theatre - Chicago | 6/30/2023 19:00 | View Tickets |
| Drunk Shakespeare Chicago, Illinois at The Lion Theatre - Chicago | 6/30/2023 21:00 | View Tickets |
| Drunk Shakespeare Chicago, Illinois at The Lion Theatre - Chicago | 7/01/2023 19:00 | View Tickets |
| Drunk Shakespeare Chicago, Illinois at The Lion Theatre - Chicago | 7/01/2023 21:00 | View Tickets |
| Drunk Shakespeare Chicago, Illinois at The Lion Theatre - Chicago | 7/02/2023 17:00 | View Tickets |
| Drunk Shakespeare Chicago, Illinois at The Lion Theatre - Chicago | 7/05/2023 19:30 | View Tickets |
| Drunk Shakespeare Chicago, Illinois at The Lion Theatre - Chicago | 7/06/2023 19:30 | View Tickets |
| Drunk Shakespeare Chicago, Illinois at The Lion Theatre - Chicago | 7/07/2023 19:00 | View Tickets |
| Drunk Shakespeare Chicago, Illinois at The Lion Theatre - Chicago | 7/07/2023 21:00 | View Tickets |
| Drunk Shakespeare Chicago, Illinois at The Lion Theatre - Chicago | 7/08/2023 17:00 | View Tickets |
| Drunk Shakespeare Chicago, Illinois at The Lion Theatre - Chicago | 7/08/2023 19:00 | View Tickets |
| Drunk Shakespeare Chicago, Illinois at The Lion Theatre - Chicago | 7/08/2023 21:00 | View Tickets |
| Drunk Shakespeare Chicago, Illinois at The Lion Theatre - Chicago | 7/09/2023 17:00 | View Tickets |
| Drunk Shakespeare Chicago, Illinois at The Lion Theatre - Chicago | 7/12/2023 19:30 | View Tickets |
| Drunk Shakespeare Chicago, Illinois at The Lion Theatre - Chicago | 7/14/2023 19:00 | View Tickets |
| Drunk Shakespeare Chicago, Illinois at The Lion Theatre - Chicago | 7/14/2023 21:00 | View Tickets |
| Drunk Shakespeare Chicago, Illinois at The Lion Theatre - Chicago | 7/15/2023 17:00 | View Tickets |
| Drunk Shakespeare Chicago, Illinois at The Lion Theatre - Chicago | 7/15/2023 19:00 | View Tickets |
| Drunk Shakespeare Chicago, Illinois at The Lion Theatre - Chicago | 7/15/2023 21:00 | View Tickets |
| Drunk Shakespeare Chicago, Illinois at The Lion Theatre - Chicago | 7/16/2023 17:00 | View Tickets |
| Drunk Shakespeare Chicago, Illinois at The Lion Theatre - Chicago | 7/19/2023 19:30 | View Tickets |
| Drunk Shakespeare Chicago, Illinois at The Lion Theatre - Chicago | 7/20/2023 19:30 | View Tickets |
| Drunk Shakespeare Chicago, Illinois at The Lion Theatre - Chicago | 7/21/2023 19:00 | View Tickets |
| Drunk Shakespeare Chicago, Illinois at The Lion Theatre - Chicago | 7/21/2023 21:00 | View Tickets |
| Drunk Shakespeare Chicago, Illinois at The Lion Theatre - Chicago | 7/22/2023 17:00 | View Tickets |
| Drunk Shakespeare Chicago, Illinois at The Lion Theatre - Chicago | 7/22/2023 19:00 | View Tickets |
| Drunk Shakespeare Chicago, Illinois at The Lion Theatre - Chicago | 7/22/2023 21:00 | View Tickets |
| Drunk Shakespeare Chicago, Illinois at The Lion Theatre - Chicago | 7/23/2023 17:00 | View Tickets |
| Drunk Shakespeare Chicago, Illinois at The Lion Theatre - Chicago | 7/26/2023 19:30 | View Tickets |
| Drunk Shakespeare Chicago, Illinois at The Lion Theatre - Chicago | 7/27/2023 19:30 | View Tickets |
| Drunk Shakespeare Chicago, Illinois at The Lion Theatre - Chicago | 7/28/2023 19:00 | View Tickets |
| Drunk Shakespeare Chicago, Illinois at The Lion Theatre - Chicago | 7/28/2023 21:00 | View Tickets |
| Drunk Shakespeare Chicago, Illinois at The Lion Theatre - Chicago | 7/29/2023 17:00 | View Tickets |
| Drunk Shakespeare Chicago, Illinois at The Lion Theatre - Chicago | 7/29/2023 19:00 | View Tickets |
| Drunk Shakespeare Chicago, Illinois at The Lion Theatre - Chicago | 7/29/2023 21:00 | View Tickets |
| Drunk Shakespeare Chicago, Illinois at The Lion Theatre - Chicago | 7/30/2023 17:00 | View Tickets |
| Drunk Shakespeare Chicago, Illinois at The Lion Theatre - Chicago | 8/02/2023 19:30 | View Tickets |
| Drunk Shakespeare Chicago, Illinois at The Lion Theatre - Chicago | 8/03/2023 19:30 | View Tickets |
| Drunk Shakespeare Chicago, Illinois at The Lion Theatre - Chicago | 8/04/2023 19:00 | View Tickets |
| Drunk Shakespeare Chicago, Illinois at The Lion Theatre - Chicago | 8/05/2023 19:00 | View Tickets |
| Drunk Shakespeare Chicago, Illinois at The Lion Theatre - Chicago | 8/06/2023 17:00 | View Tickets |
| Drunk Shakespeare Chicago, Illinois at The Lion Theatre - Chicago | 8/09/2023 19:30 | View Tickets |
| Drunk Shakespeare Chicago, Illinois at The Lion Theatre - Chicago | 8/10/2023 19:30 | View Tickets |
| Drunk Shakespeare Chicago, Illinois at The Lion Theatre - Chicago | 8/11/2023 19:00 | View Tickets |
| Drunk Shakespeare Chicago, Illinois at The Lion Theatre - Chicago | 8/11/2023 21:00 | View Tickets |
| Drunk Shakespeare Chicago, Illinois at The Lion Theatre - Chicago | 8/12/2023 17:00 | View Tickets |
| Drunk Shakespeare Chicago, Illinois at The Lion Theatre - Chicago | 8/12/2023 19:00 | View Tickets |
| Drunk Shakespeare Chicago, Illinois at The Lion Theatre - Chicago | 8/12/2023 21:00 | View Tickets |
| Drunk Shakespeare Chicago, Illinois at The Lion Theatre - Chicago | 8/13/2023 17:00 | View Tickets |
| Drunk Shakespeare Chicago, Illinois at The Lion Theatre - Chicago | 8/16/2023 19:30 | View Tickets |
| Drunk Shakespeare Chicago, Illinois at The Lion Theatre - Chicago | 8/17/2023 19:30 | View Tickets |
| Drunk Shakespeare Chicago, Illinois at The Lion Theatre - Chicago | 8/18/2023 19:00 | View Tickets |
| Drunk Shakespeare Chicago, Illinois at The Lion Theatre - Chicago | 8/18/2023 21:00 | View Tickets |
| Drunk Shakespeare Chicago, Illinois at The Lion Theatre - Chicago | 8/19/2023 17:00 | View Tickets |
| Drunk Shakespeare Chicago, Illinois at The Lion Theatre - Chicago | 8/19/2023 19:00 | View Tickets |
| Drunk Shakespeare Chicago, Illinois at The Lion Theatre - Chicago | 8/19/2023 21:00 | View Tickets |
| Drunk Shakespeare Chicago, Illinois at The Lion Theatre - Chicago | 8/20/2023 17:00 | View Tickets |
| Drunk Shakespeare Chicago, Illinois at The Lion Theatre - Chicago | 8/23/2023 19:30 | View Tickets |
| Drunk Shakespeare Chicago, Illinois at The Lion Theatre - Chicago | 8/24/2023 19:30 | View Tickets |
| Drunk Shakespeare Chicago, Illinois at The Lion Theatre - Chicago | 8/25/2023 19:00 | View Tickets |
| Drunk Shakespeare Chicago, Illinois at The Lion Theatre - Chicago | 8/25/2023 21:00 | View Tickets |
| Drunk Shakespeare Chicago, Illinois at The Lion Theatre - Chicago | 8/26/2023 17:00 | View Tickets |
| Drunk Shakespeare Chicago, Illinois at The Lion Theatre - Chicago | 8/26/2023 19:00 | View Tickets |
| Drunk Shakespeare Chicago, Illinois at The Lion Theatre - Chicago | 8/26/2023 21:00 | View Tickets |
| Drunk Shakespeare Chicago, Illinois at The Lion Theatre - Chicago | 8/27/2023 17:00 | View Tickets |
| Drunk Shakespeare Chicago, Illinois at The Lion Theatre - Chicago | 8/30/2023 19:30 | View Tickets |
| Drunk Shakespeare Chicago, Illinois at The Lion Theatre - Chicago | 8/31/2023 19:30 | View Tickets |
| Drunk Shakespeare Chicago, Illinois at The Lion Theatre - Chicago | 9/01/2023 19:00 | View Tickets |
| Drunk Shakespeare Chicago, Illinois at The Lion Theatre - Chicago | 9/01/2023 21:00 | View Tickets |
| Drunk Shakespeare Chicago, Illinois at The Lion Theatre - Chicago | 9/02/2023 17:00 | View Tickets |
| Drunk Shakespeare Chicago, Illinois at The Lion Theatre - Chicago | 9/02/2023 19:00 | View Tickets |
| Drunk Shakespeare Chicago, Illinois at The Lion Theatre - Chicago | 9/02/2023 21:00 | View Tickets |
| Drunk Shakespeare Chicago, Illinois at The Lion Theatre - Chicago | 9/03/2023 17:00 | View Tickets |
| Drunk Shakespeare Chicago, Illinois at The Lion Theatre - Chicago | 9/06/2023 19:30 | View Tickets |
| Drunk Shakespeare Chicago, Illinois at The Lion Theatre - Chicago | 9/07/2023 19:30 | View Tickets |
| Drunk Shakespeare Chicago, Illinois at The Lion Theatre - Chicago | 9/08/2023 19:00 | View Tickets |
| Drunk Shakespeare Chicago, Illinois at The Lion Theatre - Chicago | 9/08/2023 21:00 | View Tickets |
| Drunk Shakespeare Chicago, Illinois at The Lion Theatre - Chicago | 9/09/2023 17:00 | View Tickets |
| Drunk Shakespeare Chicago, Illinois at The Lion Theatre - Chicago | 9/09/2023 19:00 | View Tickets |
| Drunk Shakespeare Chicago, Illinois at The Lion Theatre - Chicago | 9/09/2023 21:00 | View Tickets |
| Drunk Shakespeare Chicago, Illinois at The Lion Theatre - Chicago | 9/10/2023 17:00 | View Tickets |
| Drunk Shakespeare Chicago, Illinois at The Lion Theatre - Chicago | 9/13/2023 19:30 | View Tickets |
| Drunk Shakespeare Chicago, Illinois at The Lion Theatre - Chicago | 9/14/2023 19:30 | View Tickets |
| Drunk Shakespeare Chicago, Illinois at The Lion Theatre - Chicago | 9/15/2023 19:00 | View Tickets |
| Drunk Shakespeare Chicago, Illinois at The Lion Theatre - Chicago | 9/15/2023 21:00 | View Tickets |
| Drunk Shakespeare Chicago, Illinois at The Lion Theatre - Chicago | 9/16/2023 17:00 | View Tickets |
| Drunk Shakespeare Chicago, Illinois at The Lion Theatre - Chicago | 9/16/2023 19:00 | View Tickets |
| Drunk Shakespeare Chicago, Illinois at The Lion Theatre - Chicago | 9/16/2023 21:00 | View Tickets |
| Drunk Shakespeare Chicago, Illinois at The Lion Theatre - Chicago | 9/17/2023 17:00 | View Tickets |
| Drunk Shakespeare Chicago, Illinois at The Lion Theatre - Chicago | 9/20/2023 19:30 | View Tickets |
| Drunk Shakespeare Chicago, Illinois at The Lion Theatre - Chicago | 9/21/2023 19:30 | View Tickets |
| Drunk Shakespeare Chicago, Illinois at The Lion Theatre - Chicago | 9/22/2023 19:00 | View Tickets |
| Drunk Shakespeare Chicago, Illinois at The Lion Theatre - Chicago | 9/22/2023 21:00 | View Tickets |
| Drunk Shakespeare Chicago, Illinois at The Lion Theatre - Chicago | 9/23/2023 17:00 | View Tickets |
| Drunk Shakespeare Chicago, Illinois at The Lion Theatre - Chicago | 9/23/2023 19:00 | View Tickets |
| Drunk Shakespeare Chicago, Illinois at The Lion Theatre - Chicago | 9/23/2023 21:00 | View Tickets |
| Drunk Shakespeare Chicago, Illinois at The Lion Theatre - Chicago | 9/24/2023 17:00 | View Tickets |
| Drunk Shakespeare Chicago, Illinois at The Lion Theatre - Chicago | 9/27/2023 19:30 | View Tickets |
| Drunk Shakespeare Chicago, Illinois at The Lion Theatre - Chicago | 9/28/2023 19:30 | View Tickets |
| Drunk Shakespeare Chicago, Illinois at The Lion Theatre - Chicago | 9/29/2023 19:00 | View Tickets |
| Drunk Shakespeare Chicago, Illinois at The Lion Theatre - Chicago | 9/29/2023 21:00 | View Tickets |
| Drunk Shakespeare Chicago, Illinois at The Lion Theatre - Chicago | 9/30/2023 17:00 | View Tickets |
| Drunk Shakespeare Chicago, Illinois at The Lion Theatre - Chicago | 9/30/2023 19:00 | View Tickets |
| Drunk Shakespeare Chicago, Illinois at The Lion Theatre - Chicago | 9/30/2023 21:00 | View Tickets |
| Drunk Shakespeare Chicago, Illinois at The Lion Theatre - Chicago | 10/01/2023 17:00 | View Tickets |
| Drunk Shakespeare Chicago, Illinois at The Lion Theatre - Chicago | 10/04/2023 19:30 | View Tickets |
| Drunk Shakespeare Chicago, Illinois at The Lion Theatre - Chicago | 10/05/2023 19:30 | View Tickets |
| Drunk Shakespeare Chicago, Illinois at The Lion Theatre - Chicago | 10/06/2023 19:00 | View Tickets |
| Drunk Shakespeare Chicago, Illinois at The Lion Theatre - Chicago | 10/06/2023 21:00 | View Tickets |
| Drunk Shakespeare Chicago, Illinois at The Lion Theatre - Chicago | 10/07/2023 17:00 | View Tickets |
| Drunk Shakespeare Chicago, Illinois at The Lion Theatre - Chicago | 10/07/2023 19:00 | View Tickets |
| Drunk Shakespeare Chicago, Illinois at The Lion Theatre - Chicago | 10/07/2023 21:00 | View Tickets |
| Drunk Shakespeare Chicago, Illinois at The Lion Theatre - Chicago | 10/08/2023 17:00 | View Tickets |
| Drunk Shakespeare Chicago, Illinois at The Lion Theatre - Chicago | 10/11/2023 19:30 | View Tickets |
| Drunk Shakespeare Chicago, Illinois at The Lion Theatre - Chicago | 10/12/2023 19:30 | View Tickets |
| Drunk Shakespeare Chicago, Illinois at The Lion Theatre - Chicago | 10/13/2023 19:00 | View Tickets |
| Drunk Shakespeare Chicago, Illinois at The Lion Theatre - Chicago | 10/13/2023 21:00 | View Tickets |
| Drunk Shakespeare Chicago, Illinois at The Lion Theatre - Chicago | 10/14/2023 17:00 | View Tickets |
| Drunk Shakespeare Chicago, Illinois at The Lion Theatre - Chicago | 10/14/2023 19:00 | View Tickets |
| Drunk Shakespeare Chicago, Illinois at The Lion Theatre - Chicago | 10/14/2023 21:00 | View Tickets |
| Drunk Shakespeare Chicago, Illinois at The Lion Theatre - Chicago | 10/15/2023 17:00 | View Tickets |
| Drunk Shakespeare Chicago, Illinois at The Lion Theatre - Chicago | 10/18/2023 19:30 | View Tickets |
| Drunk Shakespeare Chicago, Illinois at The Lion Theatre - Chicago | 10/19/2023 19:30 | View Tickets |
| Drunk Shakespeare Chicago, Illinois at The Lion Theatre - Chicago | 10/20/2023 19:00 | View Tickets |
| Drunk Shakespeare Chicago, Illinois at The Lion Theatre - Chicago | 10/20/2023 21:00 | View Tickets |
| Drunk Shakespeare Chicago, Illinois at The Lion Theatre - Chicago | 10/21/2023 17:00 | View Tickets |
| Drunk Shakespeare Chicago, Illinois at The Lion Theatre - Chicago | 10/21/2023 19:00 | View Tickets |
| Drunk Shakespeare Chicago, Illinois at The Lion Theatre - Chicago | 10/21/2023 21:00 | View Tickets |
| Drunk Shakespeare Chicago, Illinois at The Lion Theatre - Chicago | 10/22/2023 17:00 | View Tickets |
| Drunk Shakespeare Chicago, Illinois at The Lion Theatre - Chicago | 10/25/2023 19:30 | View Tickets |
| Drunk Shakespeare Chicago, Illinois at The Lion Theatre - Chicago | 10/26/2023 19:30 | View Tickets |
| Drunk Shakespeare Chicago, Illinois at The Lion Theatre - Chicago | 10/27/2023 19:00 | View Tickets |
| Drunk Shakespeare Chicago, Illinois at The Lion Theatre - Chicago | 10/28/2023 17:00 | View Tickets |
| Drunk Shakespeare Chicago, Illinois at The Lion Theatre - Chicago | 10/28/2023 19:00 | View Tickets |
| Drunk Shakespeare Chicago, Illinois at The Lion Theatre - Chicago | 10/28/2023 21:00 | View Tickets |
| Drunk Shakespeare Chicago, Illinois at The Lion Theatre - Chicago | 10/29/2023 17:00 | View Tickets |
| Drunk Shakespeare Chicago, Illinois at The Lion Theatre - Chicago | 11/01/2023 19:30 | View Tickets |
| Drunk Shakespeare Chicago, Illinois at The Lion Theatre - Chicago | 11/02/2023 19:30 | View Tickets |
| Drunk Shakespeare Chicago, Illinois at The Lion Theatre - Chicago | 11/03/2023 19:00 | View Tickets |
| Drunk Shakespeare Chicago, Illinois at The Lion Theatre - Chicago | 11/03/2023 21:00 | View Tickets |
| Drunk Shakespeare Chicago, Illinois at The Lion Theatre - Chicago | 11/04/2023 17:00 | View Tickets |
| Drunk Shakespeare Chicago, Illinois at The Lion Theatre - Chicago | 11/04/2023 19:00 | View Tickets |
| Drunk Shakespeare Chicago, Illinois at The Lion Theatre - Chicago | 11/04/2023 21:00 | View Tickets |
| Drunk Shakespeare Chicago, Illinois at The Lion Theatre - Chicago | 11/05/2023 17:00 | View Tickets |
| Drunk Shakespeare Chicago, Illinois at The Lion Theatre - Chicago | 11/08/2023 19:30 | View Tickets |
| Drunk Shakespeare Chicago, Illinois at The Lion Theatre - Chicago | 11/09/2023 19:30 | View Tickets |
| Drunk Shakespeare Chicago, Illinois at The Lion Theatre - Chicago | 11/10/2023 19:00 | View Tickets |
| Drunk Shakespeare Chicago, Illinois at The Lion Theatre - Chicago | 11/10/2023 21:00 | View Tickets |
| Drunk Shakespeare Chicago, Illinois at The Lion Theatre - Chicago | 11/11/2023 17:00 | View Tickets |
| Drunk Shakespeare Chicago, Illinois at The Lion Theatre - Chicago | 11/11/2023 19:00 | View Tickets |
| Drunk Shakespeare Chicago, Illinois at The Lion Theatre - Chicago | 11/11/2023 21:00 | View Tickets |
| Drunk Shakespeare Chicago, Illinois at The Lion Theatre - Chicago | 11/12/2023 17:00 | View Tickets |
| Drunk Shakespeare Chicago, Illinois at The Lion Theatre - Chicago | 11/15/2023 19:30 | View Tickets |
| Drunk Shakespeare Chicago, Illinois at The Lion Theatre - Chicago | 11/16/2023 19:30 | View Tickets |
| Drunk Shakespeare Chicago, Illinois at The Lion Theatre - Chicago | 11/17/2023 19:00 | View Tickets |
| Drunk Shakespeare Chicago, Illinois at The Lion Theatre - Chicago | 11/17/2023 21:00 | View Tickets |
| Drunk Shakespeare Chicago, Illinois at The Lion Theatre - Chicago | 11/18/2023 17:00 | View Tickets |
| Drunk Shakespeare Chicago, Illinois at The Lion Theatre - Chicago | 11/18/2023 19:00 | View Tickets |
| Drunk Shakespeare Chicago, Illinois at The Lion Theatre - Chicago | 11/18/2023 21:00 | View Tickets |
| Drunk Shakespeare Chicago, Illinois at The Lion Theatre - Chicago | 11/19/2023 17:00 | View Tickets |
| Drunk Shakespeare Chicago, Illinois at The Lion Theatre - Chicago | 11/22/2023 19:00 | View Tickets |
| Drunk Shakespeare Chicago, Illinois at The Lion Theatre - Chicago | 11/24/2023 19:00 | View Tickets |
| Drunk Shakespeare Chicago, Illinois at The Lion Theatre - Chicago | 11/24/2023 21:00 | View Tickets |
| Drunk Shakespeare Chicago, Illinois at The Lion Theatre - Chicago | 11/25/2023 17:00 | View Tickets |
| Drunk Shakespeare Chicago, Illinois at The Lion Theatre - Chicago | 11/25/2023 19:00 | View Tickets |
| Drunk Shakespeare Chicago, Illinois at The Lion Theatre - Chicago | 11/25/2023 21:00 | View Tickets |
| Drunk Shakespeare Chicago, Illinois at The Lion Theatre - Chicago | 11/26/2023 17:00 | View Tickets |
| Drunk Shakespeare Chicago, Illinois at The Lion Theatre - Chicago | 11/29/2023 19:30 | View Tickets |
| Drunk Shakespeare Chicago, Illinois at The Lion Theatre - Chicago | 11/30/2023 19:30 | View Tickets |
| Drunk Shakespeare Chicago, Illinois at The Lion Theatre - Chicago | 12/01/2023 19:00 | View Tickets |
| Drunk Shakespeare Chicago, Illinois at The Lion Theatre - Chicago | 12/01/2023 21:00 | View Tickets |
| Drunk Shakespeare Chicago, Illinois at The Lion Theatre - Chicago | 12/02/2023 17:00 | View Tickets |
| Drunk Shakespeare Chicago, Illinois at The Lion Theatre - Chicago | 12/02/2023 19:00 | View Tickets |
| Drunk Shakespeare Chicago, Illinois at The Lion Theatre - Chicago | 12/02/2023 21:00 | View Tickets |
| Drunk Shakespeare Chicago, Illinois at The Lion Theatre - Chicago | 12/03/2023 17:00 | View Tickets |
| Drunk Shakespeare Chicago, Illinois at The Lion Theatre - Chicago | 12/06/2023 19:30 | View Tickets |
| Drunk Shakespeare Chicago, Illinois at The Lion Theatre - Chicago | 12/07/2023 19:30 | View Tickets |
| Drunk Shakespeare Chicago, Illinois at The Lion Theatre - Chicago | 12/08/2023 19:00 | View Tickets |
| Drunk Shakespeare Chicago, Illinois at The Lion Theatre - Chicago | 12/08/2023 21:00 | View Tickets |
| Drunk Shakespeare Chicago, Illinois at The Lion Theatre - Chicago | 12/09/2023 17:00 | View Tickets |
| Drunk Shakespeare Chicago, Illinois at The Lion Theatre - Chicago | 12/09/2023 19:00 | View Tickets |
| Drunk Shakespeare Chicago, Illinois at The Lion Theatre - Chicago | 12/09/2023 21:00 | View Tickets |
| Drunk Shakespeare Chicago, Illinois at The Lion Theatre - Chicago | 12/10/2023 17:00 | View Tickets |
| Drunk Shakespeare Chicago, Illinois at The Lion Theatre - Chicago | 12/12/2023 19:00 | View Tickets |
| Drunk Shakespeare Chicago, Illinois at The Lion Theatre - Chicago | 12/13/2023 19:30 | View Tickets |
| Drunk Shakespeare Chicago, Illinois at The Lion Theatre - Chicago | 12/14/2023 19:30 | View Tickets |
| Drunk Shakespeare Chicago, Illinois at The Lion Theatre - Chicago | 12/15/2023 19:00 | View Tickets |
| Drunk Shakespeare Chicago, Illinois at The Lion Theatre - Chicago | 12/15/2023 21:00 | View Tickets |
| Drunk Shakespeare Chicago, Illinois at The Lion Theatre - Chicago | 12/16/2023 17:00 | View Tickets |
| Drunk Shakespeare Chicago, Illinois at The Lion Theatre - Chicago | 12/16/2023 19:00 | View Tickets |
| Drunk Shakespeare Chicago, Illinois at The Lion Theatre - Chicago | 12/16/2023 21:00 | View Tickets |
| Drunk Shakespeare Chicago, Illinois at The Lion Theatre - Chicago | 12/17/2023 17:00 | View Tickets |
| Drunk Shakespeare Chicago, Illinois at The Lion Theatre - Chicago | 12/19/2023 19:00 | View Tickets |
| Drunk Shakespeare Chicago, Illinois at The Lion Theatre - Chicago | 12/20/2023 19:30 | View Tickets |
| Drunk Shakespeare Chicago, Illinois at The Lion Theatre - Chicago | 12/21/2023 19:30 | View Tickets |
| Drunk Shakespeare Chicago, Illinois at The Lion Theatre - Chicago | 12/22/2023 19:00 | View Tickets |
| Drunk Shakespeare Chicago, Illinois at The Lion Theatre - Chicago | 12/22/2023 21:00 | View Tickets |
| Drunk Shakespeare Chicago, Illinois at The Lion Theatre - Chicago | 12/23/2023 17:00 | View Tickets |
| Drunk Shakespeare Chicago, Illinois at The Lion Theatre - Chicago | 12/23/2023 19:00 | View Tickets |
| Drunk Shakespeare Chicago, Illinois at The Lion Theatre - Chicago | 12/23/2023 21:00 | View Tickets |
| Drunk Shakespeare Chicago, Illinois at The Lion Theatre - Chicago | 12/24/2023 17:00 | View Tickets |
| Drunk Shakespeare Chicago, Illinois at The Lion Theatre - Chicago | 12/26/2023 19:00 | View Tickets |
| Drunk Shakespeare Chicago, Illinois at The Lion Theatre - Chicago | 12/27/2023 19:00 | View Tickets |
| Drunk Shakespeare Chicago, Illinois at The Lion Theatre - Chicago | 12/28/2023 19:00 | View Tickets |
| Drunk Shakespeare Chicago, Illinois at The Lion Theatre - Chicago | 12/29/2023 19:00 | View Tickets |
| Drunk Shakespeare Chicago, Illinois at The Lion Theatre - Chicago | 12/29/2023 21:00 | View Tickets |
| Drunk Shakespeare Chicago, Illinois at The Lion Theatre - Chicago | 12/30/2023 17:00 | View Tickets |
| Drunk Shakespeare Chicago, Illinois at The Lion Theatre - Chicago | 12/30/2023 19:00 | View Tickets |
| Drunk Shakespeare Chicago, Illinois at The Lion Theatre - Chicago | 12/30/2023 21:00 | View Tickets |
| Drunk Shakespeare Chicago, Illinois at The Lion Theatre - Chicago | 12/31/2023 17:00 | View Tickets |
| Drunk Shakespeare Chicago, Illinois at The Lion Theatre - Chicago | 12/31/2023 19:00 | View Tickets |
| Drunk Shakespeare Chicago, Illinois at The Lion Theatre - Chicago | 1/01/2024 19:00 | View Tickets |
| Drunk Shakespeare Chicago, Illinois at The Lion Theatre - Chicago | 1/03/2024 20:00 | View Tickets |
| Drunk Shakespeare Chicago, Illinois at The Lion Theatre - Chicago | 1/04/2024 19:30 | View Tickets |
| Drunk Shakespeare Chicago, Illinois at The Lion Theatre - Chicago | 1/05/2024 20:00 | View Tickets |
| Drunk Shakespeare Chicago, Illinois at The Lion Theatre - Chicago | 1/05/2024 22:00 | View Tickets |
| Drunk Shakespeare Chicago, Illinois at The Lion Theatre - Chicago | 1/06/2024 18:00 | View Tickets |
| Drunk Shakespeare Chicago, Illinois at The Lion Theatre - Chicago | 1/06/2024 20:00 | View Tickets |
| Drunk Shakespeare Chicago, Illinois at The Lion Theatre - Chicago | 1/06/2024 22:00 | View Tickets |
| Drunk Shakespeare Chicago, Illinois at The Lion Theatre - Chicago | 1/07/2024 19:00 | View Tickets |
Do you like to see live performance?? Drunk Shakespeare Chicago is coming in Chicago. Buy Drunk Shakespeare Chicago tickets today and don't miss out the unforgettable Theatre fun in your city.

Tickets4Chicago.com is the best place to get cheap Drunk Shakespeare Chicago tickets, its tour dates schedule, venue map and tickets prices. We offer 100% buyers guarantee through the SSL secure transaction and you will receive authentic Drunk Shakespeare Chicago Theatre tickets in time for the event.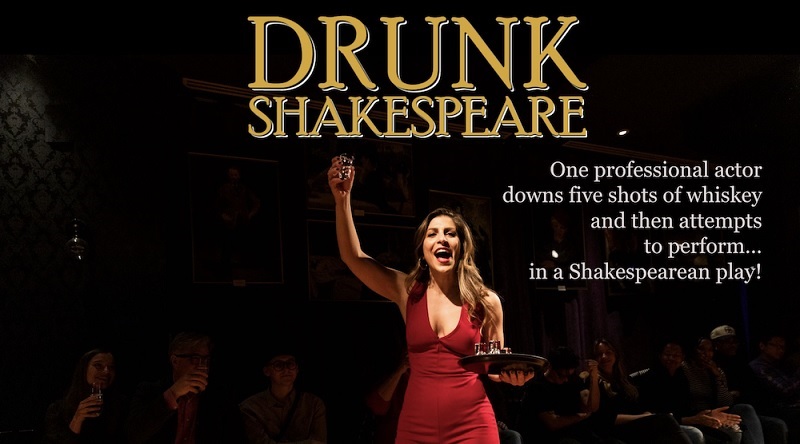 Cheap Drunk Shakespeare Chicago Tickets
We also have Drunk Shakespeare Chicago discount coupons. Use discount code " CHICAGO " on checkout and get 3% discount on your Drunk Shakespeare Chicago tickets.
Drunk Shakespeare Chicago HighLights
The Drunk Shakespeare Musical is a unique theatrical experience not for the faint of heart. The show combines the art of improvisation with the consumption of alcohol to create a performance that is both entertaining and unpredictable. The premise is simple – a group of actors gets together to perform one of Shakespeare's classic plays but with a twist. They are all drunk.
As the show begins, the actors stumble onto the stage, slurring their words and tripping over their feet. They begin to recite lines from the play but soon find themselves going off-script and ad-libbing their own lines. The audience is encouraged to participate, and the actors often break the fourth wall to interact with them.
Despite the alcohol-fueled chaos, the actors manage to stay true to the play's original plot, albeit with a few humorous twists and turns. The result is a hilarious and irreverent take on Shakespeare that will leave audiences in stitches.
But the Drunk Shakespeare Musical is more than just a comedy show. It is a celebration of the power of theater to bring people together and create unforgettable experiences. It reminds us that even in our most drunken and vulnerable moments, we can create something beautiful and meaningful. So, suppose you're looking for a night of laughter, camaraderie, and a little Shakespearean drama. In that case, the Drunk Shakespeare Musical is the show for you.
Drunk Shakespeare The Lion Theatre - Chicago Tickets
Drunk Shakespeare is coming in Chicago on 6/08/2023 19:30. Dont miss the show at The Lion Theatre - Chicago Illinois and get your cheap Drunk Shakespeare Chicago tickets before they get sold.

The Lion Theatre - Chicago Address: 182 N Wabash Ave Chicago 60601 Illinois
Minimum Price: $.000000


The Lion Theatre - Chicago Seating Map