Guaranteed Rate Field Tickets
Guaranteed Rate Field hosts a variety of different events all year and some top events are coming up. Buy Guaranteed Rate Field tickets and don't miss out the unforgettable fun in Chicago.

Tickets4Chicago.com is the best place to get cheap Guaranteed Rate Field tickets. You can check Guaranteed Rate Field seating chart, events dates, schedule and tickets prices. We offer 100% buyers guarantee through the SSL secure transaction and you will receive authentic and discount Guaranteed Rate Field tickets in time for the event.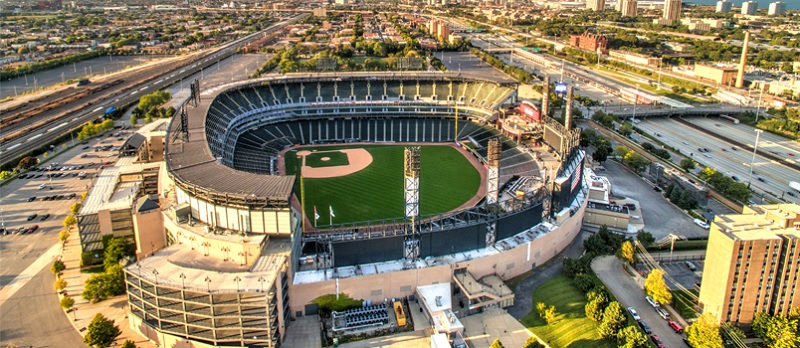 Cheap Guaranteed Rate Field Tickets
We also have Guaranteed Rate Field discount coupon promo code available. Use promo discount code " CHICAGO" on checkout and get 3% extra discount on Guaranteed Rate Field tickets.
Guaranteed Rate Field Tour
Guaranteed Rate Field Info:
Guaranteed Rate Field, owned by the state of Illinois, is a baseball park. It serves as the home ground for Chicago White Sox, the Major Baseball League team. It is owned by the Illinois Sports Facilities Authority but operated by the White Sox. The park opened its doors in 1991 with the name Comiskey Park, but in 2003, U.S. Cellular purchased the naming rights and changed the name to U.S. Cellular Field. In October 2016, a private residential mortgage company bought the naming rights and renamed it to Guaranteed Rate. The stadium offers a lot of attraction and features for the public it has kids zone, a fan deck which gives a panoramic view of the park, a rain room to cool of in hot game days, Chicagoland Plumbing Council Shower, scout seats, and White Sox Champions Brick Plaza dedicated to the 2005 world series championship among other attractions.
| | | | |
| --- | --- | --- | --- |
| Chicago White Sox Season Tickets (Includes Tickets To All Regular Season Home Games) tickets Guaranteed Rate Field Chicago, Illinois | 3/27/2024 3:30 | $ | View Tickets |
| Home Opener: Chicago White Sox vs. Detroit Tigers tickets Guaranteed Rate Field Chicago, Illinois | 3/28/2024 3:30 | $43 | View Tickets |
| Home Opener: Chicago White Sox vs. Detroit Tigers tickets Guaranteed Rate Field Chicago, Illinois | 3/28/2024 3:30 | $43 | View Tickets |
| Chicago White Sox vs. Detroit Tigers tickets Guaranteed Rate Field Chicago, Illinois | 3/30/2024 3:30 | $18 | View Tickets |
| Chicago White Sox vs. Detroit Tigers tickets Guaranteed Rate Field Chicago, Illinois | 3/30/2024 3:30 | $18 | View Tickets |
| Chicago White Sox vs. Detroit Tigers tickets Guaranteed Rate Field Chicago, Illinois | 3/31/2024 3:30 | $17 | View Tickets |
| Chicago White Sox vs. Detroit Tigers tickets Guaranteed Rate Field Chicago, Illinois | 3/31/2024 3:30 | $17 | View Tickets |
| Chicago White Sox vs. Atlanta Braves tickets Guaranteed Rate Field Chicago, Illinois | 4/01/2024 3:30 | $10 | View Tickets |
| Chicago White Sox vs. Atlanta Braves tickets Guaranteed Rate Field Chicago, Illinois | 4/01/2024 3:30 | $10 | View Tickets |
| Chicago White Sox vs. Atlanta Braves tickets Guaranteed Rate Field Chicago, Illinois | 4/02/2024 3:30 | $10 | View Tickets |
| Chicago White Sox vs. Atlanta Braves tickets Guaranteed Rate Field Chicago, Illinois | 4/02/2024 3:30 | $10 | View Tickets |
| Chicago White Sox vs. Atlanta Braves tickets Guaranteed Rate Field Chicago, Illinois | 4/03/2024 3:30 | $10 | View Tickets |
| Chicago White Sox vs. Atlanta Braves tickets Guaranteed Rate Field Chicago, Illinois | 4/03/2024 3:30 | $10 | View Tickets |
| Chicago White Sox vs. Cincinnati Reds tickets Guaranteed Rate Field Chicago, Illinois | 4/12/2024 3:30 | $17 | View Tickets |
| Chicago White Sox vs. Cincinnati Reds tickets Guaranteed Rate Field Chicago, Illinois | 4/12/2024 3:30 | $17 | View Tickets |
| Chicago White Sox vs. Cincinnati Reds tickets Guaranteed Rate Field Chicago, Illinois | 4/13/2024 3:30 | $19 | View Tickets |
| Chicago White Sox vs. Cincinnati Reds tickets Guaranteed Rate Field Chicago, Illinois | 4/13/2024 3:30 | $19 | View Tickets |
| Chicago White Sox vs. Cincinnati Reds tickets Guaranteed Rate Field Chicago, Illinois | 4/14/2024 3:30 | $17 | View Tickets |
| Chicago White Sox vs. Cincinnati Reds tickets Guaranteed Rate Field Chicago, Illinois | 4/14/2024 3:30 | $17 | View Tickets |
| Chicago White Sox vs. Kansas City Royals tickets Guaranteed Rate Field Chicago, Illinois | 4/15/2024 3:30 | $8 | View Tickets |
| Chicago White Sox vs. Kansas City Royals tickets Guaranteed Rate Field Chicago, Illinois | 4/15/2024 3:30 | $8 | View Tickets |
| Chicago White Sox vs. Kansas City Royals tickets Guaranteed Rate Field Chicago, Illinois | 4/16/2024 3:30 | $7 | View Tickets |
| Chicago White Sox vs. Kansas City Royals tickets Guaranteed Rate Field Chicago, Illinois | 4/16/2024 3:30 | $7 | View Tickets |
| Chicago White Sox vs. Kansas City Royals tickets Guaranteed Rate Field Chicago, Illinois | 4/17/2024 3:30 | $7 | View Tickets |
| Chicago White Sox vs. Kansas City Royals tickets Guaranteed Rate Field Chicago, Illinois | 4/17/2024 3:30 | $7 | View Tickets |
| Chicago White Sox vs. Tampa Bay Rays tickets Guaranteed Rate Field Chicago, Illinois | 4/26/2024 3:30 | $17 | View Tickets |
| Chicago White Sox vs. Tampa Bay Rays tickets Guaranteed Rate Field Chicago, Illinois | 4/26/2024 3:30 | $17 | View Tickets |
| Chicago White Sox vs. Tampa Bay Rays tickets Guaranteed Rate Field Chicago, Illinois | 4/27/2024 3:30 | $19 | View Tickets |
| Chicago White Sox vs. Tampa Bay Rays tickets Guaranteed Rate Field Chicago, Illinois | 4/27/2024 3:30 | $19 | View Tickets |
| Chicago White Sox vs. Tampa Bay Rays tickets Guaranteed Rate Field Chicago, Illinois | 4/28/2024 3:30 | $17 | View Tickets |
| Chicago White Sox vs. Tampa Bay Rays tickets Guaranteed Rate Field Chicago, Illinois | 4/28/2024 3:30 | $17 | View Tickets |
| Chicago White Sox vs. Minnesota Twins tickets Guaranteed Rate Field Chicago, Illinois | 4/29/2024 3:30 | $7 | View Tickets |
| Chicago White Sox vs. Minnesota Twins tickets Guaranteed Rate Field Chicago, Illinois | 4/29/2024 3:30 | $7 | View Tickets |
| Chicago White Sox vs. Minnesota Twins tickets Guaranteed Rate Field Chicago, Illinois | 4/30/2024 3:30 | $7 | View Tickets |
| Chicago White Sox vs. Minnesota Twins tickets Guaranteed Rate Field Chicago, Illinois | 4/30/2024 3:30 | $7 | View Tickets |
| Chicago White Sox vs. Minnesota Twins tickets Guaranteed Rate Field Chicago, Illinois | 5/01/2024 3:30 | $7 | View Tickets |
| Chicago White Sox vs. Minnesota Twins tickets Guaranteed Rate Field Chicago, Illinois | 5/01/2024 3:30 | $7 | View Tickets |
| Chicago White Sox vs. Cleveland Guardians tickets Guaranteed Rate Field Chicago, Illinois | 5/09/2024 3:30 | $7 | View Tickets |
| Chicago White Sox vs. Cleveland Guardians tickets Guaranteed Rate Field Chicago, Illinois | 5/09/2024 3:30 | $7 | View Tickets |
| Chicago White Sox vs. Cleveland Guardians tickets Guaranteed Rate Field Chicago, Illinois | 5/10/2024 3:30 | $17 | View Tickets |
| Chicago White Sox vs. Cleveland Guardians tickets Guaranteed Rate Field Chicago, Illinois | 5/10/2024 3:30 | $17 | View Tickets |
| Chicago White Sox vs. Cleveland Guardians tickets Guaranteed Rate Field Chicago, Illinois | 5/11/2024 3:30 | $19 | View Tickets |
| Chicago White Sox vs. Cleveland Guardians tickets Guaranteed Rate Field Chicago, Illinois | 5/11/2024 3:30 | $19 | View Tickets |
| Chicago White Sox vs. Cleveland Guardians tickets Guaranteed Rate Field Chicago, Illinois | 5/12/2024 3:30 | $14 | View Tickets |
| Chicago White Sox vs. Cleveland Guardians tickets Guaranteed Rate Field Chicago, Illinois | 5/12/2024 3:30 | $14 | View Tickets |
| Chicago White Sox vs. Washington Nationals tickets Guaranteed Rate Field Chicago, Illinois | 5/13/2024 3:30 | $8 | View Tickets |
| Chicago White Sox vs. Washington Nationals tickets Guaranteed Rate Field Chicago, Illinois | 5/13/2024 3:30 | $8 | View Tickets |
| Chicago White Sox vs. Washington Nationals tickets Guaranteed Rate Field Chicago, Illinois | 5/14/2024 3:30 | $8 | View Tickets |
| Chicago White Sox vs. Washington Nationals tickets Guaranteed Rate Field Chicago, Illinois | 5/14/2024 3:30 | $8 | View Tickets |
| Chicago White Sox vs. Washington Nationals tickets Guaranteed Rate Field Chicago, Illinois | 5/15/2024 3:30 | $8 | View Tickets |
| Chicago White Sox vs. Washington Nationals tickets Guaranteed Rate Field Chicago, Illinois | 5/15/2024 3:30 | $8 | View Tickets |
| Chicago White Sox vs. Baltimore Orioles tickets Guaranteed Rate Field Chicago, Illinois | 5/23/2024 3:30 | $11 | View Tickets |
| Chicago White Sox vs. Baltimore Orioles tickets Guaranteed Rate Field Chicago, Illinois | 5/23/2024 3:30 | $11 | View Tickets |
| Chicago White Sox vs. Baltimore Orioles tickets Guaranteed Rate Field Chicago, Illinois | 5/24/2024 3:30 | $17 | View Tickets |
| Chicago White Sox vs. Baltimore Orioles tickets Guaranteed Rate Field Chicago, Illinois | 5/24/2024 3:30 | $17 | View Tickets |
| Chicago White Sox vs. Baltimore Orioles tickets Guaranteed Rate Field Chicago, Illinois | 5/25/2024 3:30 | $20 | View Tickets |
| Chicago White Sox vs. Baltimore Orioles tickets Guaranteed Rate Field Chicago, Illinois | 5/25/2024 3:30 | $20 | View Tickets |
| Chicago White Sox vs. Baltimore Orioles tickets Guaranteed Rate Field Chicago, Illinois | 5/26/2024 3:30 | $15 | View Tickets |
| Chicago White Sox vs. Baltimore Orioles tickets Guaranteed Rate Field Chicago, Illinois | 5/26/2024 3:30 | $15 | View Tickets |
| Chicago White Sox vs. Toronto Blue Jays tickets Guaranteed Rate Field Chicago, Illinois | 5/27/2024 3:30 | $17 | View Tickets |
| Chicago White Sox vs. Toronto Blue Jays tickets Guaranteed Rate Field Chicago, Illinois | 5/27/2024 3:30 | $17 | View Tickets |
| Chicago White Sox vs. Toronto Blue Jays tickets Guaranteed Rate Field Chicago, Illinois | 5/28/2024 3:30 | $11 | View Tickets |
| Chicago White Sox vs. Toronto Blue Jays tickets Guaranteed Rate Field Chicago, Illinois | 5/28/2024 3:30 | $11 | View Tickets |
| Chicago White Sox vs. Toronto Blue Jays tickets Guaranteed Rate Field Chicago, Illinois | 5/29/2024 3:30 | $11 | View Tickets |
| Chicago White Sox vs. Toronto Blue Jays tickets Guaranteed Rate Field Chicago, Illinois | 5/29/2024 3:30 | $11 | View Tickets |
| Chicago White Sox vs. Boston Red Sox tickets Guaranteed Rate Field Chicago, Illinois | 6/06/2024 3:30 | $25 | View Tickets |
| Chicago White Sox vs. Boston Red Sox tickets Guaranteed Rate Field Chicago, Illinois | 6/06/2024 3:30 | $25 | View Tickets |
| Chicago White Sox vs. Boston Red Sox tickets Guaranteed Rate Field Chicago, Illinois | 6/07/2024 3:30 | $30 | View Tickets |
| Chicago White Sox vs. Boston Red Sox tickets Guaranteed Rate Field Chicago, Illinois | 6/07/2024 3:30 | $30 | View Tickets |
| Chicago White Sox vs. Boston Red Sox tickets Guaranteed Rate Field Chicago, Illinois | 6/08/2024 3:30 | $31 | View Tickets |
| Chicago White Sox vs. Boston Red Sox tickets Guaranteed Rate Field Chicago, Illinois | 6/08/2024 3:30 | $31 | View Tickets |
| Chicago White Sox vs. Boston Red Sox tickets Guaranteed Rate Field Chicago, Illinois | 6/09/2024 3:30 | $31 | View Tickets |
| Chicago White Sox vs. Boston Red Sox tickets Guaranteed Rate Field Chicago, Illinois | 6/09/2024 3:30 | $31 | View Tickets |
| Chicago White Sox vs. Houston Astros tickets Guaranteed Rate Field Chicago, Illinois | 6/18/2024 3:30 | $18 | View Tickets |
| Chicago White Sox vs. Houston Astros tickets Guaranteed Rate Field Chicago, Illinois | 6/18/2024 3:30 | $18 | View Tickets |
| Chicago White Sox vs. Houston Astros tickets Guaranteed Rate Field Chicago, Illinois | 6/19/2024 3:30 | $18 | View Tickets |
| Chicago White Sox vs. Houston Astros tickets Guaranteed Rate Field Chicago, Illinois | 6/19/2024 3:30 | $18 | View Tickets |
| Chicago White Sox vs. Houston Astros tickets Guaranteed Rate Field Chicago, Illinois | 6/20/2024 3:30 | $18 | View Tickets |
| Chicago White Sox vs. Houston Astros tickets Guaranteed Rate Field Chicago, Illinois | 6/20/2024 3:30 | $18 | View Tickets |
| Chicago White Sox vs. Los Angeles Dodgers tickets Guaranteed Rate Field Chicago, Illinois | 6/24/2024 3:30 | $18 | View Tickets |
| Chicago White Sox vs. Los Angeles Dodgers tickets Guaranteed Rate Field Chicago, Illinois | 6/24/2024 3:30 | $18 | View Tickets |
| Chicago White Sox vs. Los Angeles Dodgers tickets Guaranteed Rate Field Chicago, Illinois | 6/25/2024 3:30 | $18 | View Tickets |
| Chicago White Sox vs. Los Angeles Dodgers tickets Guaranteed Rate Field Chicago, Illinois | 6/25/2024 3:30 | $18 | View Tickets |
| Chicago White Sox vs. Los Angeles Dodgers tickets Guaranteed Rate Field Chicago, Illinois | 6/26/2024 3:30 | $18 | View Tickets |
| Chicago White Sox vs. Los Angeles Dodgers tickets Guaranteed Rate Field Chicago, Illinois | 6/26/2024 3:30 | $18 | View Tickets |
| Chicago White Sox vs. Colorado Rockies tickets Guaranteed Rate Field Chicago, Illinois | 6/28/2024 3:30 | $17 | View Tickets |
| Chicago White Sox vs. Colorado Rockies tickets Guaranteed Rate Field Chicago, Illinois | 6/28/2024 3:30 | $17 | View Tickets |
| Chicago White Sox vs. Colorado Rockies tickets Guaranteed Rate Field Chicago, Illinois | 6/29/2024 3:30 | $20 | View Tickets |
| Chicago White Sox vs. Colorado Rockies tickets Guaranteed Rate Field Chicago, Illinois | 6/29/2024 3:30 | $20 | View Tickets |
| Chicago White Sox vs. Colorado Rockies tickets Guaranteed Rate Field Chicago, Illinois | 6/30/2024 3:30 | $17 | View Tickets |
| Chicago White Sox vs. Colorado Rockies tickets Guaranteed Rate Field Chicago, Illinois | 6/30/2024 3:30 | $17 | View Tickets |
| Chicago White Sox vs. Minnesota Twins tickets Guaranteed Rate Field Chicago, Illinois | 7/08/2024 3:30 | $11 | View Tickets |
| Chicago White Sox vs. Minnesota Twins tickets Guaranteed Rate Field Chicago, Illinois | 7/08/2024 3:30 | $11 | View Tickets |
| Chicago White Sox vs. Minnesota Twins tickets Guaranteed Rate Field Chicago, Illinois | 7/09/2024 3:30 | $11 | View Tickets |
| Chicago White Sox vs. Minnesota Twins tickets Guaranteed Rate Field Chicago, Illinois | 7/09/2024 3:30 | $11 | View Tickets |
| Chicago White Sox vs. Minnesota Twins tickets Guaranteed Rate Field Chicago, Illinois | 7/10/2024 3:30 | $11 | View Tickets |
| Chicago White Sox vs. Minnesota Twins tickets Guaranteed Rate Field Chicago, Illinois | 7/10/2024 3:30 | $11 | View Tickets |
| Chicago White Sox vs. Pittsburgh Pirates tickets Guaranteed Rate Field Chicago, Illinois | 7/12/2024 3:30 | $17 | View Tickets |
| Chicago White Sox vs. Pittsburgh Pirates tickets Guaranteed Rate Field Chicago, Illinois | 7/12/2024 3:30 | $17 | View Tickets |
| Chicago White Sox vs. Pittsburgh Pirates tickets Guaranteed Rate Field Chicago, Illinois | 7/13/2024 3:30 | $20 | View Tickets |
| Chicago White Sox vs. Pittsburgh Pirates tickets Guaranteed Rate Field Chicago, Illinois | 7/13/2024 3:30 | $20 | View Tickets |
| Chicago White Sox vs. Pittsburgh Pirates tickets Guaranteed Rate Field Chicago, Illinois | 7/14/2024 3:30 | $17 | View Tickets |
| Chicago White Sox vs. Pittsburgh Pirates tickets Guaranteed Rate Field Chicago, Illinois | 7/14/2024 3:30 | $17 | View Tickets |
| Chicago White Sox vs. Seattle Mariners tickets Guaranteed Rate Field Chicago, Illinois | 7/26/2024 3:30 | $17 | View Tickets |
| Chicago White Sox vs. Seattle Mariners tickets Guaranteed Rate Field Chicago, Illinois | 7/26/2024 3:30 | $17 | View Tickets |
| Chicago White Sox vs. Seattle Mariners tickets Guaranteed Rate Field Chicago, Illinois | 7/27/2024 3:30 | $22 | View Tickets |
| Chicago White Sox vs. Seattle Mariners tickets Guaranteed Rate Field Chicago, Illinois | 7/27/2024 3:30 | $22 | View Tickets |
| Chicago White Sox vs. Seattle Mariners tickets Guaranteed Rate Field Chicago, Illinois | 7/28/2024 3:30 | $17 | View Tickets |
| Chicago White Sox vs. Seattle Mariners tickets Guaranteed Rate Field Chicago, Illinois | 7/28/2024 3:30 | $17 | View Tickets |
| Chicago White Sox vs. Kansas City Royals tickets Guaranteed Rate Field Chicago, Illinois | 7/29/2024 3:30 | $11 | View Tickets |
| Chicago White Sox vs. Kansas City Royals tickets Guaranteed Rate Field Chicago, Illinois | 7/29/2024 3:30 | $11 | View Tickets |
| Chicago White Sox vs. Kansas City Royals tickets Guaranteed Rate Field Chicago, Illinois | 7/30/2024 3:30 | $11 | View Tickets |
| Chicago White Sox vs. Kansas City Royals tickets Guaranteed Rate Field Chicago, Illinois | 7/30/2024 3:30 | $11 | View Tickets |
| Chicago White Sox vs. Kansas City Royals tickets Guaranteed Rate Field Chicago, Illinois | 7/31/2024 3:30 | $11 | View Tickets |
| Chicago White Sox vs. Kansas City Royals tickets Guaranteed Rate Field Chicago, Illinois | 7/31/2024 3:30 | $11 | View Tickets |
| Chicago White Sox vs. Chicago Cubs tickets Guaranteed Rate Field Chicago, Illinois | 8/09/2024 3:30 | $31 | View Tickets |
| Chicago White Sox vs. Chicago Cubs tickets Guaranteed Rate Field Chicago, Illinois | 8/09/2024 3:30 | $31 | View Tickets |
| Chicago White Sox vs. Chicago Cubs tickets Guaranteed Rate Field Chicago, Illinois | 8/10/2024 3:30 | $31 | View Tickets |
| Chicago White Sox vs. Chicago Cubs tickets Guaranteed Rate Field Chicago, Illinois | 8/10/2024 3:30 | $31 | View Tickets |
| Chicago White Sox vs. New York Yankees tickets Guaranteed Rate Field Chicago, Illinois | 8/12/2024 3:30 | $24 | View Tickets |
| Chicago White Sox vs. New York Yankees tickets Guaranteed Rate Field Chicago, Illinois | 8/12/2024 3:30 | $24 | View Tickets |
| Chicago White Sox vs. New York Yankees tickets Guaranteed Rate Field Chicago, Illinois | 8/13/2024 3:30 | $24 | View Tickets |
| Chicago White Sox vs. New York Yankees tickets Guaranteed Rate Field Chicago, Illinois | 8/13/2024 3:30 | $24 | View Tickets |
| Chicago White Sox vs. New York Yankees tickets Guaranteed Rate Field Chicago, Illinois | 8/14/2024 3:30 | $24 | View Tickets |
| Chicago White Sox vs. New York Yankees tickets Guaranteed Rate Field Chicago, Illinois | 8/14/2024 3:30 | $24 | View Tickets |
| Chicago White Sox vs. Detroit Tigers tickets Guaranteed Rate Field Chicago, Illinois | 8/23/2024 3:30 | $17 | View Tickets |
| Chicago White Sox vs. Detroit Tigers tickets Guaranteed Rate Field Chicago, Illinois | 8/23/2024 3:30 | $17 | View Tickets |
| Chicago White Sox vs. Detroit Tigers tickets Guaranteed Rate Field Chicago, Illinois | 8/24/2024 3:30 | $17 | View Tickets |
| Chicago White Sox vs. Detroit Tigers tickets Guaranteed Rate Field Chicago, Illinois | 8/24/2024 3:30 | $17 | View Tickets |
| Chicago White Sox vs. Detroit Tigers tickets Guaranteed Rate Field Chicago, Illinois | 8/25/2024 3:30 | $17 | View Tickets |
| Chicago White Sox vs. Detroit Tigers tickets Guaranteed Rate Field Chicago, Illinois | 8/25/2024 3:30 | $17 | View Tickets |
| Chicago White Sox vs. Detroit Tigers tickets Guaranteed Rate Field Chicago, Illinois | 8/26/2024 3:30 | $11 | View Tickets |
| Chicago White Sox vs. Detroit Tigers tickets Guaranteed Rate Field Chicago, Illinois | 8/26/2024 3:30 | $11 | View Tickets |
| Chicago White Sox vs. Texas Rangers tickets Guaranteed Rate Field Chicago, Illinois | 8/27/2024 3:30 | $11 | View Tickets |
| Chicago White Sox vs. Texas Rangers tickets Guaranteed Rate Field Chicago, Illinois | 8/27/2024 3:30 | $11 | View Tickets |
| Chicago White Sox vs. Texas Rangers tickets Guaranteed Rate Field Chicago, Illinois | 8/28/2024 3:30 | $11 | View Tickets |
| Chicago White Sox vs. Texas Rangers tickets Guaranteed Rate Field Chicago, Illinois | 8/28/2024 3:30 | $11 | View Tickets |
| Chicago White Sox vs. Texas Rangers tickets Guaranteed Rate Field Chicago, Illinois | 8/29/2024 3:30 | $11 | View Tickets |
| Chicago White Sox vs. Texas Rangers tickets Guaranteed Rate Field Chicago, Illinois | 8/29/2024 3:30 | $11 | View Tickets |
| Chicago White Sox vs. New York Mets tickets Guaranteed Rate Field Chicago, Illinois | 8/30/2024 3:30 | $17 | View Tickets |
| Chicago White Sox vs. New York Mets tickets Guaranteed Rate Field Chicago, Illinois | 8/30/2024 3:30 | $17 | View Tickets |
| Chicago White Sox vs. New York Mets tickets Guaranteed Rate Field Chicago, Illinois | 8/31/2024 3:30 | $20 | View Tickets |
| Chicago White Sox vs. New York Mets tickets Guaranteed Rate Field Chicago, Illinois | 8/31/2024 3:30 | $20 | View Tickets |
| Chicago White Sox vs. New York Mets tickets Guaranteed Rate Field Chicago, Illinois | 9/01/2024 3:30 | $17 | View Tickets |
| Chicago White Sox vs. New York Mets tickets Guaranteed Rate Field Chicago, Illinois | 9/01/2024 3:30 | $17 | View Tickets |
| Chicago White Sox vs. Cleveland Guardians tickets Guaranteed Rate Field Chicago, Illinois | 9/09/2024 3:30 | $11 | View Tickets |
| Chicago White Sox vs. Cleveland Guardians tickets Guaranteed Rate Field Chicago, Illinois | 9/09/2024 3:30 | $11 | View Tickets |
| Chicago White Sox vs. Cleveland Guardians tickets Guaranteed Rate Field Chicago, Illinois | 9/10/2024 3:30 | $11 | View Tickets |
| Chicago White Sox vs. Cleveland Guardians tickets Guaranteed Rate Field Chicago, Illinois | 9/10/2024 3:30 | $11 | View Tickets |
| Chicago White Sox vs. Cleveland Guardians tickets Guaranteed Rate Field Chicago, Illinois | 9/11/2024 3:30 | $11 | View Tickets |
| Chicago White Sox vs. Cleveland Guardians tickets Guaranteed Rate Field Chicago, Illinois | 9/11/2024 3:30 | $11 | View Tickets |
| Chicago White Sox vs. Oakland Athletics tickets Guaranteed Rate Field Chicago, Illinois | 9/13/2024 3:30 | $17 | View Tickets |
| Chicago White Sox vs. Oakland Athletics tickets Guaranteed Rate Field Chicago, Illinois | 9/13/2024 3:30 | $17 | View Tickets |
| Chicago White Sox vs. Oakland Athletics tickets Guaranteed Rate Field Chicago, Illinois | 9/14/2024 3:30 | $23 | View Tickets |
| Chicago White Sox vs. Oakland Athletics tickets Guaranteed Rate Field Chicago, Illinois | 9/14/2024 3:30 | $23 | View Tickets |
| Chicago White Sox vs. Oakland Athletics tickets Guaranteed Rate Field Chicago, Illinois | 9/15/2024 3:30 | $17 | View Tickets |
| Chicago White Sox vs. Oakland Athletics tickets Guaranteed Rate Field Chicago, Illinois | 9/15/2024 3:30 | $17 | View Tickets |
| Chicago White Sox vs. Los Angeles Angels tickets Guaranteed Rate Field Chicago, Illinois | 9/24/2024 3:30 | $17 | View Tickets |
| Chicago White Sox vs. Los Angeles Angels tickets Guaranteed Rate Field Chicago, Illinois | 9/24/2024 3:30 | $17 | View Tickets |
| Chicago White Sox vs. Los Angeles Angels tickets Guaranteed Rate Field Chicago, Illinois | 9/25/2024 3:30 | $17 | View Tickets |
| Chicago White Sox vs. Los Angeles Angels tickets Guaranteed Rate Field Chicago, Illinois | 9/25/2024 3:30 | $17 | View Tickets |
| Chicago White Sox vs. Los Angeles Angels tickets Guaranteed Rate Field Chicago, Illinois | 9/26/2024 3:30 | $17 | View Tickets |
| Chicago White Sox vs. Los Angeles Angels tickets Guaranteed Rate Field Chicago, Illinois | 9/26/2024 3:30 | $17 | View Tickets |
Chicago White Sox Season Tickets (Includes Tickets To All Regular Season Home Games) Guaranteed Rate Field Seating Chart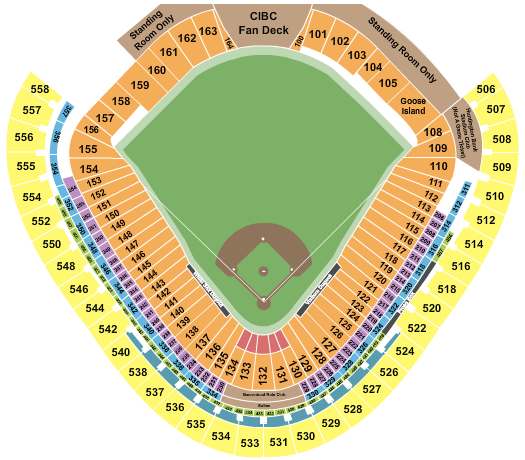 Tickets for Chicago White Sox Chicago
Venue: Guaranteed Rate Field - Use Chicago White Sox Guaranteed Rate Field discount coupon " CHICAGO " and buy discount Chicago White Sox Chicago tickets.
Cheap Chicago Chicago White Sox Tickets Price | Price: $.000000

Tickets for Atlanta Braves Chicago
Venue: Guaranteed Rate Field - Use Atlanta Braves Guaranteed Rate Field discount coupon " CHICAGO " and buy discount Atlanta Braves Chicago tickets.
Cheap Chicago Atlanta Braves Tickets Price | Price: $10.350000

Tickets for Cincinnati Reds Chicago
Venue: Guaranteed Rate Field - Use Cincinnati Reds Guaranteed Rate Field discount coupon " CHICAGO " and buy discount Cincinnati Reds Chicago tickets.
Cheap Chicago Cincinnati Reds Tickets Price | Price: $17.146500

Tickets for Tampa Bay Rays Chicago
Venue: Guaranteed Rate Field - Use Tampa Bay Rays Guaranteed Rate Field discount coupon " CHICAGO " and buy discount Tampa Bay Rays Chicago tickets.
Cheap Chicago Tampa Bay Rays Tickets Price | Price: $17.146500

Tickets for Washington Nationals Chicago
Venue: Guaranteed Rate Field - Use Washington Nationals Guaranteed Rate Field discount coupon " CHICAGO " and buy discount Washington Nationals Chicago tickets.
Cheap Chicago Washington Nationals Tickets Price | Price: $8.579000

Tickets for Baltimore Orioles Chicago
Venue: Guaranteed Rate Field - Use Baltimore Orioles Guaranteed Rate Field discount coupon " CHICAGO " and buy discount Baltimore Orioles Chicago tickets.
Cheap Chicago Baltimore Orioles Tickets Price | Price: $20.826500

Tickets for Toronto Blue Jays Chicago
Venue: Guaranteed Rate Field - Use Toronto Blue Jays Guaranteed Rate Field discount coupon " CHICAGO " and buy discount Toronto Blue Jays Chicago tickets.
Cheap Chicago Toronto Blue Jays Tickets Price | Price: $17.250000

Tickets for Boston Red Sox Chicago
Venue: Guaranteed Rate Field - Use Boston Red Sox Guaranteed Rate Field discount coupon " CHICAGO " and buy discount Boston Red Sox Chicago tickets.
Cheap Chicago Boston Red Sox Tickets Price | Price: $25.725500

Tickets for Houston Astros Chicago
Venue: Guaranteed Rate Field - Use Houston Astros Guaranteed Rate Field discount coupon " CHICAGO " and buy discount Houston Astros Chicago tickets.
Cheap Chicago Houston Astros Tickets Price | Price: $18.377000

Tickets for Los Angeles Dodgers Chicago
Venue: Guaranteed Rate Field - Use Los Angeles Dodgers Guaranteed Rate Field discount coupon " CHICAGO " and buy discount Los Angeles Dodgers Chicago tickets.
Cheap Chicago Los Angeles Dodgers Tickets Price | Price: $18.377000

Tickets for Colorado Rockies Chicago
Venue: Guaranteed Rate Field - Use Colorado Rockies Guaranteed Rate Field discount coupon " CHICAGO " and buy discount Colorado Rockies Chicago tickets.
Cheap Chicago Colorado Rockies Tickets Price | Price: $17.250000

Tickets for Minnesota Twins Chicago
Venue: Guaranteed Rate Field - Use Minnesota Twins Guaranteed Rate Field discount coupon " CHICAGO " and buy discount Minnesota Twins Chicago tickets.
Cheap Chicago Minnesota Twins Tickets Price | Price: $11.500000

Tickets for Pittsburgh Pirates Chicago
Venue: Guaranteed Rate Field - Use Pittsburgh Pirates Guaranteed Rate Field discount coupon " CHICAGO " and buy discount Pittsburgh Pirates Chicago tickets.
Cheap Chicago Pittsburgh Pirates Tickets Price | Price: $17.250000

Tickets for Seattle Mariners Chicago
Venue: Guaranteed Rate Field - Use Seattle Mariners Guaranteed Rate Field discount coupon " CHICAGO " and buy discount Seattle Mariners Chicago tickets.
Cheap Chicago Seattle Mariners Tickets Price | Price: $17.250000

Tickets for Kansas City Royals Chicago
Venue: Guaranteed Rate Field - Use Kansas City Royals Guaranteed Rate Field discount coupon " CHICAGO " and buy discount Kansas City Royals Chicago tickets.
Cheap Chicago Kansas City Royals Tickets Price | Price: $11.500000

Tickets for Chicago Cubs Chicago
Venue: Guaranteed Rate Field - Use Chicago Cubs Guaranteed Rate Field discount coupon " CHICAGO " and buy discount Chicago Cubs Chicago tickets.
Cheap Chicago Chicago Cubs Tickets Price | Price: $31.050000

Tickets for New York Yankees Chicago
Venue: Guaranteed Rate Field - Use New York Yankees Guaranteed Rate Field discount coupon " CHICAGO " and buy discount New York Yankees Chicago tickets.
Cheap Chicago New York Yankees Tickets Price | Price: $24.150000

Tickets for Detroit Tigers Chicago
Venue: Guaranteed Rate Field - Use Detroit Tigers Guaranteed Rate Field discount coupon " CHICAGO " and buy discount Detroit Tigers Chicago tickets.
Cheap Chicago Detroit Tigers Tickets Price | Price: $17.146500

Tickets for Texas Rangers Chicago
Venue: Guaranteed Rate Field - Use Texas Rangers Guaranteed Rate Field discount coupon " CHICAGO " and buy discount Texas Rangers Chicago tickets.
Cheap Chicago Texas Rangers Tickets Price | Price: $11.028500

Tickets for New York Mets Chicago
Venue: Guaranteed Rate Field - Use New York Mets Guaranteed Rate Field discount coupon " CHICAGO " and buy discount New York Mets Chicago tickets.
Cheap Chicago New York Mets Tickets Price | Price: $20.826500

Tickets for Cleveland Guardians Chicago
Venue: Guaranteed Rate Field - Use Cleveland Guardians Guaranteed Rate Field discount coupon " CHICAGO " and buy discount Cleveland Guardians Chicago tickets.
Cheap Chicago Cleveland Guardians Tickets Price | Price: $11.500000

Tickets for Oakland Athletics Chicago
Venue: Guaranteed Rate Field - Use Oakland Athletics Guaranteed Rate Field discount coupon " CHICAGO " and buy discount Oakland Athletics Chicago tickets.
Cheap Chicago Oakland Athletics Tickets Price | Price: $17.250000

Tickets for Los Angeles Angels Chicago
Venue: Guaranteed Rate Field - Use Los Angeles Angels Guaranteed Rate Field discount coupon " CHICAGO " and buy discount Los Angeles Angels Chicago tickets.
Cheap Chicago Los Angeles Angels Tickets Price | Price: $17.250000