The Lehman Trilogy Chicago Tickets
| | | |
| --- | --- | --- |
| The Lehman Trilogy Chicago, Illinois at Broadway Playhouse at Water Tower Place | 9/29/2023 19:30 | View Tickets |
| The Lehman Trilogy Chicago, Illinois at Broadway Playhouse at Water Tower Place | 9/30/2023 14:00 | View Tickets |
| The Lehman Trilogy Chicago, Illinois at Broadway Playhouse at Water Tower Place | 9/30/2023 20:00 | View Tickets |
| The Lehman Trilogy Chicago, Illinois at Broadway Playhouse at Water Tower Place | 10/01/2023 14:00 | View Tickets |
| The Lehman Trilogy Chicago, Illinois at Broadway Playhouse at Water Tower Place | 10/01/2023 19:30 | View Tickets |
| The Lehman Trilogy Chicago, Illinois at Broadway Playhouse at Water Tower Place | 10/03/2023 19:30 | View Tickets |
| The Lehman Trilogy Chicago, Illinois at Broadway Playhouse at Water Tower Place | 10/04/2023 14:00 | View Tickets |
| The Lehman Trilogy Chicago, Illinois at Broadway Playhouse at Water Tower Place | 10/04/2023 19:30 | View Tickets |
| The Lehman Trilogy Chicago, Illinois at Broadway Playhouse at Water Tower Place | 10/05/2023 19:30 | View Tickets |
| The Lehman Trilogy Chicago, Illinois at Broadway Playhouse at Water Tower Place | 10/06/2023 19:30 | View Tickets |
| The Lehman Trilogy Chicago, Illinois at Broadway Playhouse at Water Tower Place | 10/07/2023 14:00 | View Tickets |
| The Lehman Trilogy Chicago, Illinois at Broadway Playhouse at Water Tower Place | 10/07/2023 20:00 | View Tickets |
| The Lehman Trilogy Chicago, Illinois at Broadway Playhouse at Water Tower Place | 10/08/2023 14:00 | View Tickets |
| The Lehman Trilogy Chicago, Illinois at Broadway Playhouse at Water Tower Place | 10/10/2023 19:30 | View Tickets |
| The Lehman Trilogy Chicago, Illinois at Broadway Playhouse at Water Tower Place | 10/11/2023 14:00 | View Tickets |
| The Lehman Trilogy Chicago, Illinois at Broadway Playhouse at Water Tower Place | 10/11/2023 19:30 | View Tickets |
| The Lehman Trilogy Chicago, Illinois at Broadway Playhouse at Water Tower Place | 10/12/2023 19:30 | View Tickets |
| The Lehman Trilogy Chicago, Illinois at Broadway Playhouse at Water Tower Place | 10/13/2023 19:30 | View Tickets |
| The Lehman Trilogy Chicago, Illinois at Broadway Playhouse at Water Tower Place | 10/14/2023 14:00 | View Tickets |
| The Lehman Trilogy Chicago, Illinois at Broadway Playhouse at Water Tower Place | 10/14/2023 20:00 | View Tickets |
| The Lehman Trilogy Chicago, Illinois at Broadway Playhouse at Water Tower Place | 10/15/2023 14:00 | View Tickets |
| The Lehman Trilogy Chicago, Illinois at Broadway Playhouse at Water Tower Place | 10/17/2023 19:30 | View Tickets |
| The Lehman Trilogy Chicago, Illinois at Broadway Playhouse at Water Tower Place | 10/18/2023 19:30 | View Tickets |
| The Lehman Trilogy Chicago, Illinois at Broadway Playhouse at Water Tower Place | 10/19/2023 19:30 | View Tickets |
| The Lehman Trilogy Chicago, Illinois at Broadway Playhouse at Water Tower Place | 10/20/2023 19:30 | View Tickets |
| The Lehman Trilogy Chicago, Illinois at Broadway Playhouse at Water Tower Place | 10/21/2023 14:00 | View Tickets |
| The Lehman Trilogy Chicago, Illinois at Broadway Playhouse at Water Tower Place | 10/21/2023 20:00 | View Tickets |
| The Lehman Trilogy Chicago, Illinois at Broadway Playhouse at Water Tower Place | 10/22/2023 14:00 | View Tickets |
| The Lehman Trilogy Chicago, Illinois at Broadway Playhouse at Water Tower Place | 10/22/2023 19:30 | View Tickets |
| The Lehman Trilogy Chicago, Illinois at Broadway Playhouse at Water Tower Place | 10/24/2023 19:30 | View Tickets |
| The Lehman Trilogy Chicago, Illinois at Broadway Playhouse at Water Tower Place | 10/25/2023 14:00 | View Tickets |
| The Lehman Trilogy Chicago, Illinois at Broadway Playhouse at Water Tower Place | 10/25/2023 19:30 | View Tickets |
| The Lehman Trilogy Chicago, Illinois at Broadway Playhouse at Water Tower Place | 10/27/2023 19:30 | View Tickets |
| The Lehman Trilogy Chicago, Illinois at Broadway Playhouse at Water Tower Place | 10/28/2023 14:00 | View Tickets |
| The Lehman Trilogy Chicago, Illinois at Broadway Playhouse at Water Tower Place | 10/28/2023 20:00 | View Tickets |
| The Lehman Trilogy Chicago, Illinois at Broadway Playhouse at Water Tower Place | 10/29/2023 14:00 | View Tickets |
| The Lehman Trilogy Chicago, Illinois at Broadway Playhouse at Water Tower Place | 11/08/2023 14:00 | View Tickets |
| The Lehman Trilogy Chicago, Illinois at Broadway Playhouse at Water Tower Place | 11/08/2023 19:30 | View Tickets |
| The Lehman Trilogy Chicago, Illinois at Broadway Playhouse at Water Tower Place | 11/09/2023 19:30 | View Tickets |
| The Lehman Trilogy Chicago, Illinois at Broadway Playhouse at Water Tower Place | 11/10/2023 19:30 | View Tickets |
| The Lehman Trilogy Chicago, Illinois at Broadway Playhouse at Water Tower Place | 11/11/2023 20:00 | View Tickets |
| The Lehman Trilogy Chicago, Illinois at Broadway Playhouse at Water Tower Place | 11/12/2023 14:00 | View Tickets |
| The Lehman Trilogy Chicago, Illinois at Broadway Playhouse at Water Tower Place | 11/12/2023 19:30 | View Tickets |
| The Lehman Trilogy Chicago, Illinois at Broadway Playhouse at Water Tower Place | 11/14/2023 19:30 | View Tickets |
| The Lehman Trilogy Chicago, Illinois at Broadway Playhouse at Water Tower Place | 11/16/2023 19:30 | View Tickets |
| The Lehman Trilogy Chicago, Illinois at Broadway Playhouse at Water Tower Place | 11/17/2023 19:30 | View Tickets |
| The Lehman Trilogy Chicago, Illinois at Broadway Playhouse at Water Tower Place | 11/18/2023 14:00 | View Tickets |
| The Lehman Trilogy Chicago, Illinois at Broadway Playhouse at Water Tower Place | 11/18/2023 20:00 | View Tickets |
| The Lehman Trilogy Chicago, Illinois at Broadway Playhouse at Water Tower Place | 11/19/2023 14:00 | View Tickets |
| The Lehman Trilogy Chicago, Illinois at Broadway Playhouse at Water Tower Place | 11/22/2023 14:00 | View Tickets |
| The Lehman Trilogy Chicago, Illinois at Broadway Playhouse at Water Tower Place | 11/22/2023 19:30 | View Tickets |
| The Lehman Trilogy Chicago, Illinois at Broadway Playhouse at Water Tower Place | 11/24/2023 14:00 | View Tickets |
| The Lehman Trilogy Chicago, Illinois at Broadway Playhouse at Water Tower Place | 11/24/2023 19:30 | View Tickets |
| The Lehman Trilogy Chicago, Illinois at Broadway Playhouse at Water Tower Place | 11/25/2023 14:00 | View Tickets |
| The Lehman Trilogy Chicago, Illinois at Broadway Playhouse at Water Tower Place | 11/25/2023 20:00 | View Tickets |
| The Lehman Trilogy Chicago, Illinois at Broadway Playhouse at Water Tower Place | 11/26/2023 14:00 | View Tickets |
Do you like to see live performance?? The Lehman Trilogy Chicago is coming in Chicago. Buy The Lehman Trilogy Chicago tickets today and don't miss out the unforgettable Theatre fun in your city.

Tickets4Chicago.com is the best place to get cheap The Lehman Trilogy Chicago tickets, its tour dates schedule, venue map and tickets prices. We offer 100% buyers guarantee through the SSL secure transaction and you will receive authentic The Lehman Trilogy Chicago Theatre tickets in time for the event.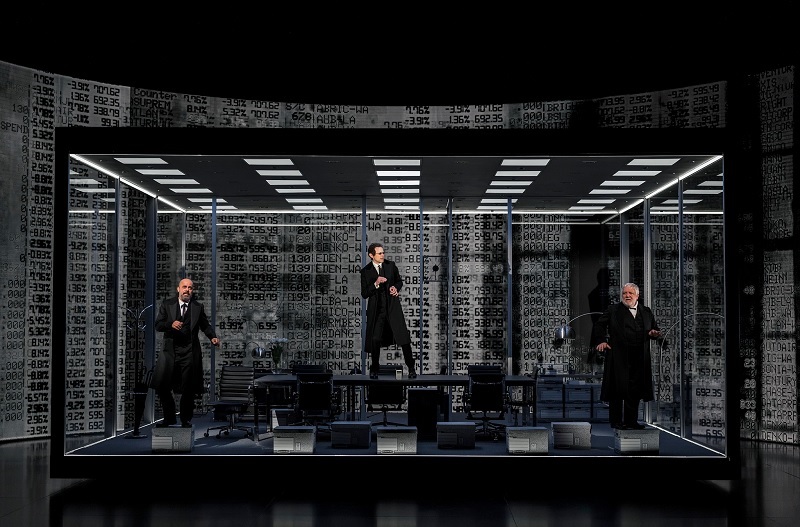 Cheap The Lehman Trilogy Chicago Tickets
We also have The Lehman Trilogy Chicago discount coupons. Use discount code " CHICAGO " on checkout and get 3% discount on your The Lehman Trilogy Chicago tickets.
The Lehman Trilogy Chicago HighLights
The Lehman Trilogy is a three-act play by Italian novelist and playwright Stefano Massini. It follows the lives of three immigrant brothers from their arrival in America and the founding of an investment firm to the company's collapse in 2008. Massini's powerful storytelling explores themes of immigration, capitalism, and the repercussions of financial crises. The play provides a poignant reflection on the complexities of the business world, captivating audiences with its thought-provoking narrative. The Lehman Trilogy offers a gripping saga that spans generations, chronicling the rise and fall of a legendary company and the human drama that unfolds within.
The Lehman Trilogy Broadway Playhouse at Water Tower Place Tickets
The Lehman Trilogy is coming in Chicago on 9/29/2023 19:30. Dont miss the show at Broadway Playhouse at Water Tower Place Illinois and get your cheap The Lehman Trilogy Chicago tickets before they get sold.

Broadway Playhouse at Water Tower Place Address: 175 E. Chestnut Street Chicago 60611 Illinois
Minimum Price: $194.350000


Broadway Playhouse at Water Tower Place Seating Map