Young Frankenstein Chicago Tickets
| | | |
| --- | --- | --- |
| Young Frankenstein Chicago, Illinois at Mercury Theater - IL | 10/13/2023 19:30 | View Tickets |
| Young Frankenstein Chicago, Illinois at Mercury Theater - IL | 10/14/2023 14:00 | View Tickets |
| Young Frankenstein Chicago, Illinois at Mercury Theater - IL | 10/14/2023 19:30 | View Tickets |
| Young Frankenstein Chicago, Illinois at Mercury Theater - IL | 10/15/2023 14:00 | View Tickets |
| Young Frankenstein Chicago, Illinois at Mercury Theater - IL | 10/18/2023 19:30 | View Tickets |
| Young Frankenstein Chicago, Illinois at Mercury Theater - IL | 10/20/2023 19:30 | View Tickets |
| Young Frankenstein Chicago, Illinois at Mercury Theater - IL | 10/21/2023 14:00 | View Tickets |
| Young Frankenstein Chicago, Illinois at Mercury Theater - IL | 10/21/2023 19:30 | View Tickets |
| Young Frankenstein Chicago, Illinois at Mercury Theater - IL | 10/22/2023 14:00 | View Tickets |
| Young Frankenstein Chicago, Illinois at Mercury Theater - IL | 10/25/2023 19:30 | View Tickets |
| Young Frankenstein Chicago, Illinois at Mercury Theater - IL | 10/26/2023 19:30 | View Tickets |
| Young Frankenstein Chicago, Illinois at Mercury Theater - IL | 10/27/2023 19:30 | View Tickets |
| Young Frankenstein Chicago, Illinois at Mercury Theater - IL | 10/28/2023 14:00 | View Tickets |
| Young Frankenstein Chicago, Illinois at Mercury Theater - IL | 10/28/2023 19:30 | View Tickets |
| Young Frankenstein Chicago, Illinois at Mercury Theater - IL | 10/29/2023 14:00 | View Tickets |
| Young Frankenstein Chicago, Illinois at Mercury Theater - IL | 11/01/2023 19:30 | View Tickets |
| Young Frankenstein Chicago, Illinois at Mercury Theater - IL | 11/02/2023 19:30 | View Tickets |
| Young Frankenstein Chicago, Illinois at Mercury Theater - IL | 11/03/2023 19:30 | View Tickets |
| Young Frankenstein Chicago, Illinois at Mercury Theater - IL | 11/04/2023 14:00 | View Tickets |
| Young Frankenstein Chicago, Illinois at Mercury Theater - IL | 11/04/2023 19:30 | View Tickets |
| Young Frankenstein Chicago, Illinois at Mercury Theater - IL | 11/05/2023 14:00 | View Tickets |
| Young Frankenstein Chicago, Illinois at Mercury Theater - IL | 11/08/2023 19:30 | View Tickets |
| Young Frankenstein Chicago, Illinois at Mercury Theater - IL | 11/09/2023 19:30 | View Tickets |
| Young Frankenstein Chicago, Illinois at Mercury Theater - IL | 11/10/2023 19:30 | View Tickets |
| Young Frankenstein Chicago, Illinois at Mercury Theater - IL | 11/11/2023 14:00 | View Tickets |
| Young Frankenstein Chicago, Illinois at Mercury Theater - IL | 11/11/2023 19:30 | View Tickets |
| Young Frankenstein Chicago, Illinois at Mercury Theater - IL | 11/12/2023 14:00 | View Tickets |
| Young Frankenstein Chicago, Illinois at Mercury Theater - IL | 11/15/2023 19:30 | View Tickets |
| Young Frankenstein Chicago, Illinois at Mercury Theater - IL | 11/16/2023 19:30 | View Tickets |
| Young Frankenstein Chicago, Illinois at Mercury Theater - IL | 11/17/2023 19:30 | View Tickets |
| Young Frankenstein Chicago, Illinois at Mercury Theater - IL | 11/18/2023 14:00 | View Tickets |
| Young Frankenstein Chicago, Illinois at Mercury Theater - IL | 11/18/2023 19:30 | View Tickets |
| Young Frankenstein Chicago, Illinois at Mercury Theater - IL | 11/19/2023 14:00 | View Tickets |
| Young Frankenstein Chicago, Illinois at Mercury Theater - IL | 11/22/2023 19:30 | View Tickets |
| Young Frankenstein Chicago, Illinois at Mercury Theater - IL | 11/24/2023 19:30 | View Tickets |
| Young Frankenstein Chicago, Illinois at Mercury Theater - IL | 11/25/2023 14:00 | View Tickets |
| Young Frankenstein Chicago, Illinois at Mercury Theater - IL | 11/25/2023 19:30 | View Tickets |
| Young Frankenstein Chicago, Illinois at Mercury Theater - IL | 11/26/2023 14:00 | View Tickets |
| Young Frankenstein Chicago, Illinois at Mercury Theater - IL | 11/29/2023 19:30 | View Tickets |
| Young Frankenstein Chicago, Illinois at Mercury Theater - IL | 11/30/2023 19:30 | View Tickets |
| Young Frankenstein Chicago, Illinois at Mercury Theater - IL | 12/01/2023 19:30 | View Tickets |
| Young Frankenstein Chicago, Illinois at Mercury Theater - IL | 12/02/2023 14:00 | View Tickets |
| Young Frankenstein Chicago, Illinois at Mercury Theater - IL | 12/02/2023 19:30 | View Tickets |
| Young Frankenstein Chicago, Illinois at Mercury Theater - IL | 12/03/2023 14:00 | View Tickets |
| Young Frankenstein Chicago, Illinois at Mercury Theater - IL | 12/06/2023 19:30 | View Tickets |
| Young Frankenstein Chicago, Illinois at Mercury Theater - IL | 12/07/2023 19:30 | View Tickets |
| Young Frankenstein Chicago, Illinois at Mercury Theater - IL | 12/08/2023 19:30 | View Tickets |
| Young Frankenstein Chicago, Illinois at Mercury Theater - IL | 12/09/2023 14:00 | View Tickets |
| Young Frankenstein Chicago, Illinois at Mercury Theater - IL | 12/09/2023 19:30 | View Tickets |
| Young Frankenstein Chicago, Illinois at Mercury Theater - IL | 12/10/2023 14:00 | View Tickets |
| Young Frankenstein Chicago, Illinois at Mercury Theater - IL | 12/13/2023 19:30 | View Tickets |
| Young Frankenstein Chicago, Illinois at Mercury Theater - IL | 12/14/2023 19:30 | View Tickets |
| Young Frankenstein Chicago, Illinois at Mercury Theater - IL | 12/15/2023 19:30 | View Tickets |
| Young Frankenstein Chicago, Illinois at Mercury Theater - IL | 12/16/2023 14:00 | View Tickets |
| Young Frankenstein Chicago, Illinois at Mercury Theater - IL | 12/16/2023 19:30 | View Tickets |
| Young Frankenstein Chicago, Illinois at Mercury Theater - IL | 12/17/2023 14:00 | View Tickets |
| Young Frankenstein Chicago, Illinois at Mercury Theater - IL | 12/20/2023 19:30 | View Tickets |
| Young Frankenstein Chicago, Illinois at Mercury Theater - IL | 12/21/2023 19:30 | View Tickets |
| Young Frankenstein Chicago, Illinois at Mercury Theater - IL | 12/22/2023 19:30 | View Tickets |
| Young Frankenstein Chicago, Illinois at Mercury Theater - IL | 12/23/2023 14:00 | View Tickets |
| Young Frankenstein Chicago, Illinois at Mercury Theater - IL | 12/23/2023 19:30 | View Tickets |
| Young Frankenstein Chicago, Illinois at Mercury Theater - IL | 12/24/2023 14:00 | View Tickets |
| Young Frankenstein Chicago, Illinois at Mercury Theater - IL | 12/27/2023 19:30 | View Tickets |
| Young Frankenstein Chicago, Illinois at Mercury Theater - IL | 12/28/2023 19:30 | View Tickets |
| Young Frankenstein Chicago, Illinois at Mercury Theater - IL | 12/29/2023 19:30 | View Tickets |
| Young Frankenstein Chicago, Illinois at Mercury Theater - IL | 12/30/2023 14:00 | View Tickets |
| Young Frankenstein Chicago, Illinois at Mercury Theater - IL | 12/30/2023 19:30 | View Tickets |
| Young Frankenstein Chicago, Illinois at Mercury Theater - IL | 12/31/2023 14:00 | View Tickets |
Do you like to see live performance?? Young Frankenstein Chicago is coming in Chicago. Buy Young Frankenstein Chicago tickets today and don't miss out the unforgettable Theatre fun in your city.

Tickets4Chicago.com is the best place to get cheap Young Frankenstein Chicago tickets, its tour dates schedule, venue map and tickets prices. We offer 100% buyers guarantee through the SSL secure transaction and you will receive authentic Young Frankenstein Chicago Theatre tickets in time for the event.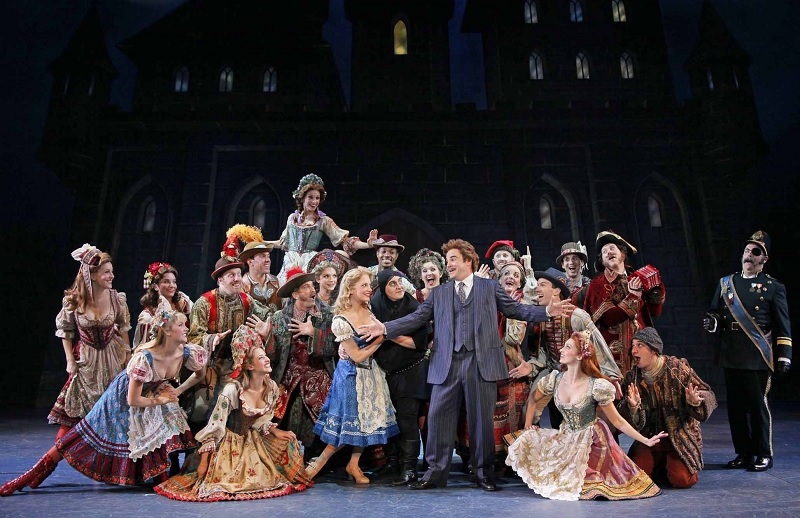 Cheap Young Frankenstein Chicago Tickets
We also have Young Frankenstein Chicago discount coupons. Use discount code " CHICAGO " on checkout and get 3% discount on your Young Frankenstein Chicago tickets.
Young Frankenstein Chicago HighLights
Young Frankenstein is a theatrical adaptation brimming with the creative collaboration of Mel Brooks and Thomas Meehan, who penned the book while Brooks contributed the music and lyrics. Drawing inspiration from the side-splitting 1974 comedy film co-written by Gene Wilder and Brooks himself, who proudly regards it as his finest work both as a writer and director. This musical version pays homage to the original, embracing the hilarity and wit that made the film a classic. With its talented cast, infectious songs, and humorous storytelling, Young Frankenstein delivers an unforgettable theatrical experience that captures the essence of Brooks' comedic genius.
Young Frankenstein Mercury Theater - IL Tickets
Young Frankenstein is coming in Chicago on 10/13/2023 19:30. Dont miss the show at Mercury Theater - IL Illinois and get your cheap Young Frankenstein Chicago tickets before they get sold.

Mercury Theater - IL Address: 3745 North Southport Avenue Chicago 60613 Illinois
Minimum Price: $85.962500


Mercury Theater - IL Seating Map