Wintrust Arena hosts a variety of different events all year and some top events are coming up. Buy Wintrust Arena tickets and don't miss out the unforgettable fun in Chicago.

Tickets4Chicago.com is the best place to get cheap Wintrust Arena tickets. You can check Wintrust Arena seating chart, events dates, schedule and tickets prices. We offer 100% buyers guarantee through the SSL secure transaction and you will receive authentic and discount Wintrust Arena tickets in time for the event.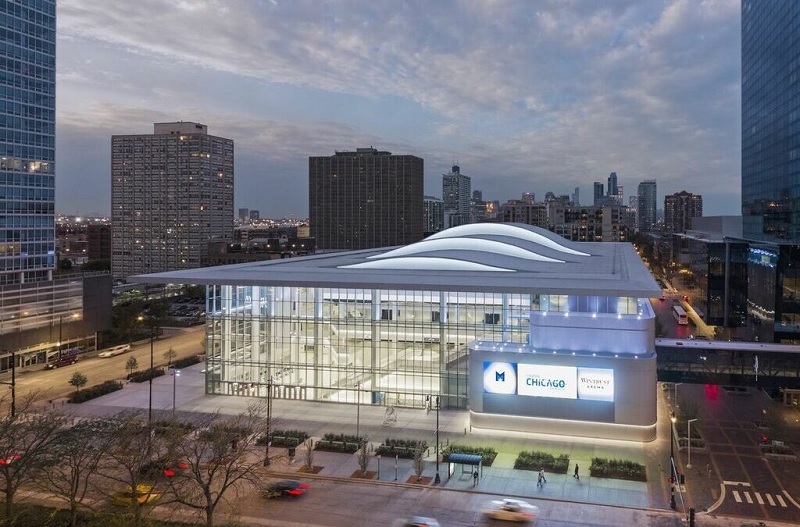 Cheap Wintrust Arena Tickets
We also have Wintrust Arena discount coupon promo code available. Use discount code "CHICAGO" on checkout and get 3% extra discount on Wintrust Arena tickets.
Wintrust Arena Tour
| | | | |
| --- | --- | --- | --- |
| Ateez tickets Wintrust Arena Chicago, Illinois | 1/18/2022 19:30 | $172 | View Tickets |
| Depaul Blue Demons vs. Xavier Musketeers tickets Wintrust Arena Chicago, Illinois | 1/19/2022 20:00 | $10 | View Tickets |
| Depaul Blue Demons vs. Xavier Musketeers tickets Wintrust Arena Chicago, Illinois | 1/19/2022 20:00 | $10 | View Tickets |
| Depaul Blue Demons vs. Xavier Musketeers tickets Wintrust Arena Chicago, Illinois | 1/19/2022 20:00 | $10 | View Tickets |
| Depaul Blue Demons vs. Xavier Musketeers tickets Wintrust Arena Chicago, Illinois | 1/19/2022 20:00 | $10 | View Tickets |
| DePaul Blue Demons Women's Basketball vs. St. Johns Red Storm tickets Wintrust Arena Chicago, Illinois | 1/28/2022 18:00 | $57 | View Tickets |
| DePaul Blue Demons Women's Basketball vs. St. Johns Red Storm tickets Wintrust Arena Chicago, Illinois | 1/28/2022 18:00 | $57 | View Tickets |
| DePaul Blue Demons Women's Basketball vs. St. Johns Red Storm tickets Wintrust Arena Chicago, Illinois | 1/28/2022 18:00 | $57 | View Tickets |
| DePaul Blue Demons Women's Basketball vs. St. Johns Red Storm tickets Wintrust Arena Chicago, Illinois | 1/28/2022 18:00 | $57 | View Tickets |
| DePaul Blue Demons vs. UConn Huskies tickets Wintrust Arena Chicago, Illinois | 1/29/2022 17:30 | $18 | View Tickets |
| DePaul Blue Demons vs. UConn Huskies tickets Wintrust Arena Chicago, Illinois | 1/29/2022 17:30 | $18 | View Tickets |
| DePaul Blue Demons vs. UConn Huskies tickets Wintrust Arena Chicago, Illinois | 1/29/2022 17:30 | $18 | View Tickets |
| DePaul Blue Demons vs. UConn Huskies tickets Wintrust Arena Chicago, Illinois | 1/29/2022 17:30 | $18 | View Tickets |
| All Elite Wrestling: Dynamite & Rampage tickets Wintrust Arena Chicago, Illinois | 2/02/2022 18:00 | $62 | View Tickets |
| All Elite Wrestling: Dynamite & Rampage tickets Wintrust Arena Chicago, Illinois | 2/02/2022 18:00 | $62 | View Tickets |
| All Elite Wrestling: Dynamite & Rampage tickets Wintrust Arena Chicago, Illinois | 2/02/2022 18:00 | $62 | View Tickets |
| DePaul Blue Demons Women's Basketball vs. Creighton Bluejays tickets Wintrust Arena Chicago, Illinois | 2/04/2022 19:00 | $57 | View Tickets |
| DePaul Blue Demons Women's Basketball vs. Creighton Bluejays tickets Wintrust Arena Chicago, Illinois | 2/04/2022 19:00 | $57 | View Tickets |
| DePaul Blue Demons Women's Basketball vs. Creighton Bluejays tickets Wintrust Arena Chicago, Illinois | 2/04/2022 19:00 | $57 | View Tickets |
| DePaul Blue Demons Women's Basketball vs. Creighton Bluejays tickets Wintrust Arena Chicago, Illinois | 2/04/2022 19:00 | $57 | View Tickets |
| DePaul Blue Demons Women's Basketball vs. Providence Friars tickets Wintrust Arena Chicago, Illinois | 2/06/2022 14:00 | $57 | View Tickets |
| DePaul Blue Demons Women's Basketball vs. Providence Friars tickets Wintrust Arena Chicago, Illinois | 2/06/2022 14:00 | $57 | View Tickets |
| DePaul Blue Demons Women's Basketball vs. Providence Friars tickets Wintrust Arena Chicago, Illinois | 2/06/2022 14:00 | $57 | View Tickets |
| DePaul Blue Demons Women's Basketball vs. Providence Friars tickets Wintrust Arena Chicago, Illinois | 2/06/2022 14:00 | $57 | View Tickets |
| DePaul Blue Demons vs. Georgetown Hoyas tickets Wintrust Arena Chicago, Illinois | 2/09/2022 20:00 | $8 | View Tickets |
| DePaul Blue Demons vs. Georgetown Hoyas tickets Wintrust Arena Chicago, Illinois | 2/09/2022 20:00 | $8 | View Tickets |
| DePaul Blue Demons vs. Georgetown Hoyas tickets Wintrust Arena Chicago, Illinois | 2/09/2022 20:00 | $8 | View Tickets |
| DePaul Blue Demons vs. Georgetown Hoyas tickets Wintrust Arena Chicago, Illinois | 2/09/2022 20:00 | $8 | View Tickets |
| DePaul Blue Demons vs. Butler Bulldogs tickets Wintrust Arena Chicago, Illinois | 2/15/2022 20:00 | $10 | View Tickets |
| DePaul Blue Demons vs. Butler Bulldogs tickets Wintrust Arena Chicago, Illinois | 2/15/2022 20:00 | $10 | View Tickets |
| DePaul Blue Demons vs. Butler Bulldogs tickets Wintrust Arena Chicago, Illinois | 2/15/2022 20:00 | $10 | View Tickets |
| DePaul Blue Demons vs. Butler Bulldogs tickets Wintrust Arena Chicago, Illinois | 2/15/2022 20:00 | $10 | View Tickets |
| DePaul Blue Demons Women's Basketball vs. Marquette Golden Eagles tickets Wintrust Arena Chicago, Illinois | 2/16/2022 19:00 | $57 | View Tickets |
| DePaul Blue Demons Women's Basketball vs. Marquette Golden Eagles tickets Wintrust Arena Chicago, Illinois | 2/16/2022 19:00 | $57 | View Tickets |
| DePaul Blue Demons Women's Basketball vs. Marquette Golden Eagles tickets Wintrust Arena Chicago, Illinois | 2/16/2022 19:00 | $57 | View Tickets |
| DePaul Blue Demons Women's Basketball vs. Marquette Golden Eagles tickets Wintrust Arena Chicago, Illinois | 2/16/2022 19:00 | $57 | View Tickets |
| DePaul Blue Demons vs. Creighton Bluejays tickets Wintrust Arena Chicago, Illinois | 2/17/2022 21:00 | $8 | View Tickets |
| DePaul Blue Demons vs. Creighton Bluejays tickets Wintrust Arena Chicago, Illinois | 2/17/2022 21:00 | $8 | View Tickets |
| DePaul Blue Demons vs. Creighton Bluejays tickets Wintrust Arena Chicago, Illinois | 2/17/2022 21:00 | $8 | View Tickets |
| DePaul Blue Demons vs. Creighton Bluejays tickets Wintrust Arena Chicago, Illinois | 2/17/2022 21:00 | $8 | View Tickets |
| DePaul Blue Demons Women's Basketball vs. Seton Hall Pirates tickets Wintrust Arena Chicago, Illinois | 2/25/2022 19:00 | $57 | View Tickets |
| DePaul Blue Demons Women's Basketball vs. Seton Hall Pirates tickets Wintrust Arena Chicago, Illinois | 2/25/2022 19:00 | $57 | View Tickets |
| DePaul Blue Demons Women's Basketball vs. Seton Hall Pirates tickets Wintrust Arena Chicago, Illinois | 2/25/2022 19:00 | $57 | View Tickets |
| DePaul Blue Demons Women's Basketball vs. Seton Hall Pirates tickets Wintrust Arena Chicago, Illinois | 2/25/2022 19:00 | $57 | View Tickets |
| DePaul Blue Demons vs. St. Johns Red Storm tickets Wintrust Arena Chicago, Illinois | 2/27/2022 16:00 | $8 | View Tickets |
| DePaul Blue Demons vs. St. Johns Red Storm tickets Wintrust Arena Chicago, Illinois | 2/27/2022 16:00 | $8 | View Tickets |
| DePaul Blue Demons vs. St. Johns Red Storm tickets Wintrust Arena Chicago, Illinois | 2/27/2022 16:00 | $8 | View Tickets |
| DePaul Blue Demons vs. St. Johns Red Storm tickets Wintrust Arena Chicago, Illinois | 2/27/2022 16:00 | $8 | View Tickets |
| DePaul Blue Demons vs. Marquette Golden Eagles tickets Wintrust Arena Chicago, Illinois | 3/02/2022 20:00 | $22 | View Tickets |
| DePaul Blue Demons vs. Marquette Golden Eagles tickets Wintrust Arena Chicago, Illinois | 3/02/2022 20:00 | $22 | View Tickets |
| DePaul Blue Demons vs. Marquette Golden Eagles tickets Wintrust Arena Chicago, Illinois | 3/02/2022 20:00 | $22 | View Tickets |
| DePaul Blue Demons vs. Marquette Golden Eagles tickets Wintrust Arena Chicago, Illinois | 3/02/2022 20:00 | $22 | View Tickets |
| Ben Platt tickets Wintrust Arena Chicago, Illinois | 3/19/2022 20:00 | $96 | View Tickets |
| Maxwell tickets Wintrust Arena Chicago, Illinois | 4/09/2022 20:00 | $51 | View Tickets |
| Chicago Sky vs. Los Angeles Sparks tickets Wintrust Arena Chicago, Illinois | 5/06/2022 19:00 | $83 | View Tickets |
| Chicago Sky vs. Los Angeles Sparks tickets Wintrust Arena Chicago, Illinois | 5/06/2022 19:00 | $83 | View Tickets |
| Chicago Sky vs. New York Liberty tickets Wintrust Arena Chicago, Illinois | 5/11/2022 19:00 | $44 | View Tickets |
| Chicago Sky vs. New York Liberty tickets Wintrust Arena Chicago, Illinois | 5/11/2022 19:00 | $44 | View Tickets |
| Chicago Sky vs. Indiana Fever tickets Wintrust Arena Chicago, Illinois | 5/24/2022 19:00 | $35 | View Tickets |
| Chicago Sky vs. Indiana Fever tickets Wintrust Arena Chicago, Illinois | 5/24/2022 19:00 | $35 | View Tickets |
| Parkway Drive, Hatebreed, The Black Dahlia Murder & Stick To Your Guns tickets Wintrust Arena Chicago, Illinois | 5/25/2022 19:00 | $83 | View Tickets |
| Parkway Drive, Hatebreed, The Black Dahlia Murder & Stick To Your Guns tickets Wintrust Arena Chicago, Illinois | 5/25/2022 19:00 | $83 | View Tickets |
| Parkway Drive, Hatebreed, The Black Dahlia Murder & Stick To Your Guns tickets Wintrust Arena Chicago, Illinois | 5/25/2022 19:00 | $83 | View Tickets |
| Parkway Drive, Hatebreed, The Black Dahlia Murder & Stick To Your Guns tickets Wintrust Arena Chicago, Illinois | 5/25/2022 19:00 | $83 | View Tickets |
| Chicago Sky vs. Las Vegas Aces tickets Wintrust Arena Chicago, Illinois | 5/28/2022 14:00 | $52 | View Tickets |
| Chicago Sky vs. Las Vegas Aces tickets Wintrust Arena Chicago, Illinois | 5/28/2022 14:00 | $52 | View Tickets |
| Chicago Sky vs. Phoenix Mercury tickets Wintrust Arena Chicago, Illinois | 5/31/2022 19:00 | $48 | View Tickets |
| Chicago Sky vs. Phoenix Mercury tickets Wintrust Arena Chicago, Illinois | 5/31/2022 19:00 | $48 | View Tickets |
| Chicago Sky vs. Washington Mystics tickets Wintrust Arena Chicago, Illinois | 6/05/2022 17:00 | $49 | View Tickets |
| Chicago Sky vs. Washington Mystics tickets Wintrust Arena Chicago, Illinois | 6/05/2022 17:00 | $49 | View Tickets |
| Chicago Sky vs. Atlanta Dream tickets Wintrust Arena Chicago, Illinois | 6/17/2022 19:00 | $54 | View Tickets |
| Chicago Sky vs. Atlanta Dream tickets Wintrust Arena Chicago, Illinois | 6/17/2022 19:00 | $54 | View Tickets |
| Chicago Sky vs. Minnesota Lynx tickets Wintrust Arena Chicago, Illinois | 6/26/2022 17:00 | $60 | View Tickets |
| Chicago Sky vs. Minnesota Lynx tickets Wintrust Arena Chicago, Illinois | 6/26/2022 17:00 | $60 | View Tickets |
| Chicago Sky vs. Connecticut Sun tickets Wintrust Arena Chicago, Illinois | 6/29/2022 11:00 | $29 | View Tickets |
| Chicago Sky vs. Connecticut Sun tickets Wintrust Arena Chicago, Illinois | 6/29/2022 11:00 | $29 | View Tickets |
| Chicago Sky vs. Phoenix Mercury tickets Wintrust Arena Chicago, Illinois | 7/02/2022 12:00 | $73 | View Tickets |
| Chicago Sky vs. Phoenix Mercury tickets Wintrust Arena Chicago, Illinois | 7/02/2022 12:00 | $73 | View Tickets |
| Chicago Sky vs. Atlanta Dream tickets Wintrust Arena Chicago, Illinois | 7/12/2022 19:00 | $55 | View Tickets |
| Chicago Sky vs. Atlanta Dream tickets Wintrust Arena Chicago, Illinois | 7/12/2022 19:00 | $55 | View Tickets |
| Chicago Sky vs. Seattle Storm tickets Wintrust Arena Chicago, Illinois | 7/20/2022 11:00 | $36 | View Tickets |
| Chicago Sky vs. Seattle Storm tickets Wintrust Arena Chicago, Illinois | 7/20/2022 11:00 | $36 | View Tickets |
| Chicago Sky vs. Dallas Wings tickets Wintrust Arena Chicago, Illinois | 7/22/2022 19:00 | $67 | View Tickets |
| Chicago Sky vs. Dallas Wings tickets Wintrust Arena Chicago, Illinois | 7/22/2022 19:00 | $67 | View Tickets |
| Chicago Sky vs. New York Liberty tickets Wintrust Arena Chicago, Illinois | 7/29/2022 19:00 | $67 | View Tickets |
| Chicago Sky vs. New York Liberty tickets Wintrust Arena Chicago, Illinois | 7/29/2022 19:00 | $67 | View Tickets |
| Chicago Sky vs. Dallas Wings tickets Wintrust Arena Chicago, Illinois | 8/02/2022 19:00 | $42 | View Tickets |
| Chicago Sky vs. Dallas Wings tickets Wintrust Arena Chicago, Illinois | 8/02/2022 19:00 | $42 | View Tickets |
| Chicago Sky vs. Washington Mystics tickets Wintrust Arena Chicago, Illinois | 8/05/2022 19:00 | $67 | View Tickets |
| Chicago Sky vs. Washington Mystics tickets Wintrust Arena Chicago, Illinois | 8/05/2022 19:00 | $67 | View Tickets |
| Chicago Sky vs. Connecticut Sun tickets Wintrust Arena Chicago, Illinois | 8/07/2022 12:00 | $60 | View Tickets |
| Chicago Sky vs. Connecticut Sun tickets Wintrust Arena Chicago, Illinois | 8/07/2022 12:00 | $60 | View Tickets |
| Chicago Sky vs. Seattle Storm tickets Wintrust Arena Chicago, Illinois | 8/09/2022 19:00 | $73 | View Tickets |
| Chicago Sky vs. Seattle Storm tickets Wintrust Arena Chicago, Illinois | 8/09/2022 19:00 | $73 | View Tickets |
| Bellator MMA tickets Wintrust Arena Chicago, Illinois | 6/06/2070 3:30 | $347 | View Tickets |
| DePaul Blue Demons Women's Basketball vs. UConn Huskies tickets Wintrust Arena Chicago, Illinois | 12/31/2071 13:00 | $ | View Tickets |
| DePaul Blue Demons Women's Basketball vs. UConn Huskies tickets Wintrust Arena Chicago, Illinois | 12/31/2071 13:00 | $ | View Tickets |
| DePaul Blue Demons Women's Basketball vs. UConn Huskies tickets Wintrust Arena Chicago, Illinois | 12/31/2071 13:00 | $ | View Tickets |
| DePaul Blue Demons Women's Basketball vs. UConn Huskies tickets Wintrust Arena Chicago, Illinois | 12/31/2071 13:00 | $ | View Tickets |
Ateez Wintrust Arena Seating Chart