The Seagull Chicago Tickets
| | | |
| --- | --- | --- |
| The Seagull Chicago, Illinois at Steppenwolf Theatre | 5/18/2022 19:30 | View Tickets |
| The Seagull Chicago, Illinois at Steppenwolf Theatre | 5/19/2022 19:30 | View Tickets |
| The Seagull Chicago, Illinois at Steppenwolf Theatre | 5/20/2022 19:30 | View Tickets |
| The Seagull Chicago, Illinois at Steppenwolf Theatre | 5/21/2022 19:30 | View Tickets |
| The Seagull Chicago, Illinois at Steppenwolf Theatre | 5/22/2022 14:30 | View Tickets |
| The Seagull Chicago, Illinois at Steppenwolf Theatre | 5/22/2022 19:30 | View Tickets |
| The Seagull Chicago, Illinois at Steppenwolf Theatre | 5/24/2022 19:30 | View Tickets |
| The Seagull Chicago, Illinois at Steppenwolf Theatre | 5/25/2022 14:00 | View Tickets |
| The Seagull Chicago, Illinois at Steppenwolf Theatre | 5/25/2022 19:30 | View Tickets |
| The Seagull Chicago, Illinois at Steppenwolf Theatre | 5/26/2022 19:30 | View Tickets |
| The Seagull Chicago, Illinois at Steppenwolf Theatre | 5/27/2022 19:30 | View Tickets |
| The Seagull Chicago, Illinois at Steppenwolf Theatre | 5/28/2022 14:30 | View Tickets |
| The Seagull Chicago, Illinois at Steppenwolf Theatre | 5/28/2022 19:30 | View Tickets |
| The Seagull Chicago, Illinois at Steppenwolf Theatre | 5/29/2022 14:30 | View Tickets |
| The Seagull Chicago, Illinois at Steppenwolf Theatre | 5/31/2022 19:30 | View Tickets |
| The Seagull Chicago, Illinois at Steppenwolf Theatre | 6/01/2022 14:00 | View Tickets |
| The Seagull Chicago, Illinois at Steppenwolf Theatre | 6/01/2022 19:30 | View Tickets |
| The Seagull Chicago, Illinois at Steppenwolf Theatre | 6/02/2022 19:30 | View Tickets |
| The Seagull Chicago, Illinois at Steppenwolf Theatre | 6/03/2022 19:30 | View Tickets |
| The Seagull Chicago, Illinois at Steppenwolf Theatre | 6/04/2022 14:30 | View Tickets |
| The Seagull Chicago, Illinois at Steppenwolf Theatre | 6/04/2022 19:30 | View Tickets |
| The Seagull Chicago, Illinois at Steppenwolf Theatre | 6/05/2022 14:30 | View Tickets |
| The Seagull Chicago, Illinois at Steppenwolf Theatre | 6/07/2022 19:30 | View Tickets |
| The Seagull Chicago, Illinois at Steppenwolf Theatre | 6/08/2022 14:00 | View Tickets |
| The Seagull Chicago, Illinois at Steppenwolf Theatre | 6/08/2022 19:30 | View Tickets |
| The Seagull Chicago, Illinois at Steppenwolf Theatre | 6/09/2022 19:30 | View Tickets |
| The Seagull Chicago, Illinois at Steppenwolf Theatre | 6/10/2022 19:30 | View Tickets |
| The Seagull Chicago, Illinois at Steppenwolf Theatre | 6/11/2022 14:30 | View Tickets |
| The Seagull Chicago, Illinois at Steppenwolf Theatre | 6/11/2022 19:30 | View Tickets |
| The Seagull Chicago, Illinois at Steppenwolf Theatre | 6/12/2022 14:30 | View Tickets |
Do you like to see live performance?? The Seagull is coming in Chicago. Buy The Seagull Chicago tickets today and don't miss out the unforgettable Theatre fun in your city.

Tickets4Chicago.com is the best place to get cheap The Seagull Chicago tickets, its tour dates schedule, venue map and tickets prices. We offer 100% buyers guarantee through the SSL secure transaction and you will receive authentic The Seagull Chicago Theatre tickets in time for the event.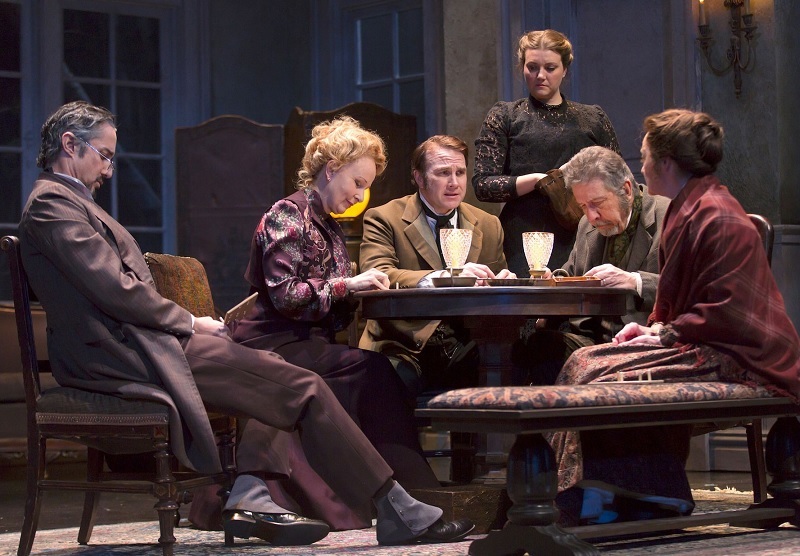 Cheap The Seagull Chicago Tickets
We also have The Seagull Chicago discount coupons. Use discount code " CHICAGO " on checkout and get 3% discount on your The Seagull Chicago tickets.
The Seagull Chicago Cast
Will Allan as Servant
Rebecca Buller as Maid
Cliff Chamberlain as Trigorin
Dieterich Gray as Yakov
Laura T. Fisher as Cook
Mary Beth Fisher as Arkadina
Francis Guinan as Sorin
Stephen Louis Grush as Konstantin
Scott Jaeck as Dorn
Kelly O'sullivan as Masha
Steve Pickering as Shamrayev
Demetrios Troy as Medvedenko
Janet Ulrich Brooks as Polina
Heather Wood as Nina
The Seagull Chicago HighLights
The Seagull is a play by Russian dramatist Anton Chekhov. It was written in 1895 and first performed in 1896. The play is set on the grounds of a country estate owned by Sorin, an aging gentleman who lives there with his sister, Irina. Sorin's daughter, Nina, has come to the estate with her son, Treplev, and her lover, Trigorin. Also on the estate are two young women, Masha and Sonya, who are servants to Irina. A retired military man, Shamrayev, also lives on the estate.
The Seagull Steppenwolf Theatre Tickets
The Seagull is coming in Chicago on 5/18/2022 19:30. Dont miss the show at Steppenwolf Theatre Illinois and get your cheap The Seagull Chicago tickets before they get sold.

Steppenwolf Theatre Address: 1650 N. Halsted St Chicago 60614 Illinois
Minimum Price: $166.750000


Steppenwolf Theatre Seating Map