The Lion King Chicago Tickets
| | | |
| --- | --- | --- |
| The Lion King Chicago, Illinois at Cadillac Palace | 12/01/2022 19:30 | View Tickets |
| The Lion King Chicago, Illinois at Cadillac Palace | 12/02/2022 19:30 | View Tickets |
| The Lion King Chicago, Illinois at Cadillac Palace | 12/03/2022 14:00 | View Tickets |
| The Lion King Chicago, Illinois at Cadillac Palace | 12/03/2022 19:30 | View Tickets |
| The Lion King Chicago, Illinois at Cadillac Palace | 12/04/2022 13:00 | View Tickets |
| The Lion King Chicago, Illinois at Cadillac Palace | 12/04/2022 18:30 | View Tickets |
| The Lion King Chicago, Illinois at Cadillac Palace | 12/07/2022 14:00 | View Tickets |
| The Lion King Chicago, Illinois at Cadillac Palace | 12/07/2022 19:30 | View Tickets |
| The Lion King Chicago, Illinois at Cadillac Palace | 12/08/2022 19:30 | View Tickets |
| The Lion King Chicago, Illinois at Cadillac Palace | 12/09/2022 19:30 | View Tickets |
| The Lion King Chicago, Illinois at Cadillac Palace | 12/10/2022 14:00 | View Tickets |
| The Lion King Chicago, Illinois at Cadillac Palace | 12/10/2022 19:30 | View Tickets |
| The Lion King Chicago, Illinois at Cadillac Palace | 12/11/2022 13:00 | View Tickets |
| The Lion King Chicago, Illinois at Cadillac Palace | 12/11/2022 18:30 | View Tickets |
| The Lion King Chicago, Illinois at Cadillac Palace | 12/14/2022 14:00 | View Tickets |
| The Lion King Chicago, Illinois at Cadillac Palace | 12/14/2022 19:30 | View Tickets |
| The Lion King Chicago, Illinois at Cadillac Palace | 12/15/2022 19:30 | View Tickets |
| The Lion King Chicago, Illinois at Cadillac Palace | 12/16/2022 19:30 | View Tickets |
| The Lion King Chicago, Illinois at Cadillac Palace | 12/17/2022 14:00 | View Tickets |
| The Lion King Chicago, Illinois at Cadillac Palace | 12/17/2022 19:30 | View Tickets |
| The Lion King Chicago, Illinois at Cadillac Palace | 12/18/2022 13:00 | View Tickets |
| The Lion King Chicago, Illinois at Cadillac Palace | 12/18/2022 18:30 | View Tickets |
| The Lion King Chicago, Illinois at Cadillac Palace | 12/20/2022 19:30 | View Tickets |
| The Lion King Chicago, Illinois at Cadillac Palace | 12/21/2022 14:00 | View Tickets |
| The Lion King Chicago, Illinois at Cadillac Palace | 12/21/2022 19:30 | View Tickets |
| The Lion King Chicago, Illinois at Cadillac Palace | 12/22/2022 19:30 | View Tickets |
| The Lion King Chicago, Illinois at Cadillac Palace | 12/23/2022 14:00 | View Tickets |
| The Lion King Chicago, Illinois at Cadillac Palace | 12/23/2022 19:30 | View Tickets |
| The Lion King Chicago, Illinois at Cadillac Palace | 12/24/2022 14:00 | View Tickets |
| The Lion King Chicago, Illinois at Cadillac Palace | 12/26/2022 19:30 | View Tickets |
| The Lion King Chicago, Illinois at Cadillac Palace | 12/27/2022 19:30 | View Tickets |
| The Lion King Chicago, Illinois at Cadillac Palace | 12/28/2022 14:00 | View Tickets |
| The Lion King Chicago, Illinois at Cadillac Palace | 12/28/2022 19:30 | View Tickets |
| The Lion King Chicago, Illinois at Cadillac Palace | 12/29/2022 19:30 | View Tickets |
| The Lion King Chicago, Illinois at Cadillac Palace | 12/30/2022 13:00 | View Tickets |
| The Lion King Chicago, Illinois at Cadillac Palace | 12/30/2022 18:30 | View Tickets |
| The Lion King Chicago, Illinois at Cadillac Palace | 12/31/2022 14:00 | View Tickets |
| The Lion King Chicago, Illinois at Cadillac Palace | 12/31/2022 19:30 | View Tickets |
| The Lion King Chicago, Illinois at Cadillac Palace | 1/04/2023 14:00 | View Tickets |
| The Lion King Chicago, Illinois at Cadillac Palace | 1/04/2023 19:30 | View Tickets |
| The Lion King Chicago, Illinois at Cadillac Palace | 1/05/2023 19:30 | View Tickets |
| The Lion King Chicago, Illinois at Cadillac Palace | 1/06/2023 19:30 | View Tickets |
| The Lion King Chicago, Illinois at Cadillac Palace | 1/07/2023 14:00 | View Tickets |
| The Lion King Chicago, Illinois at Cadillac Palace | 1/07/2023 19:30 | View Tickets |
| The Lion King Chicago, Illinois at Cadillac Palace | 1/08/2023 13:00 | View Tickets |
| The Lion King Chicago, Illinois at Cadillac Palace | 1/08/2023 18:30 | View Tickets |
| The Lion King Chicago, Illinois at Cadillac Palace | 1/10/2023 19:30 | View Tickets |
| The Lion King Chicago, Illinois at Cadillac Palace | 1/11/2023 14:00 | View Tickets |
| The Lion King Chicago, Illinois at Cadillac Palace | 1/11/2023 19:30 | View Tickets |
| The Lion King Chicago, Illinois at Cadillac Palace | 1/12/2023 19:30 | View Tickets |
| The Lion King Chicago, Illinois at Cadillac Palace | 1/13/2023 19:30 | View Tickets |
| The Lion King Chicago, Illinois at Cadillac Palace | 1/14/2023 14:00 | View Tickets |
| The Lion King Chicago, Illinois at Cadillac Palace | 1/14/2023 19:30 | View Tickets |
Do you like to see live performance?? The Lion King is coming in Chicago. Buy The Lion King Chicago tickets today and don't miss out the unforgettable Theatre fun in your city.

Tickets4Chicago.com is the best place to get cheap The Lion King Chicago tickets, its tour dates schedule, venue map and tickets prices. We offer 100% buyers guarantee through the SSL secure transaction and you will receive authentic The Lion King Chicago Theatre tickets in time for the event.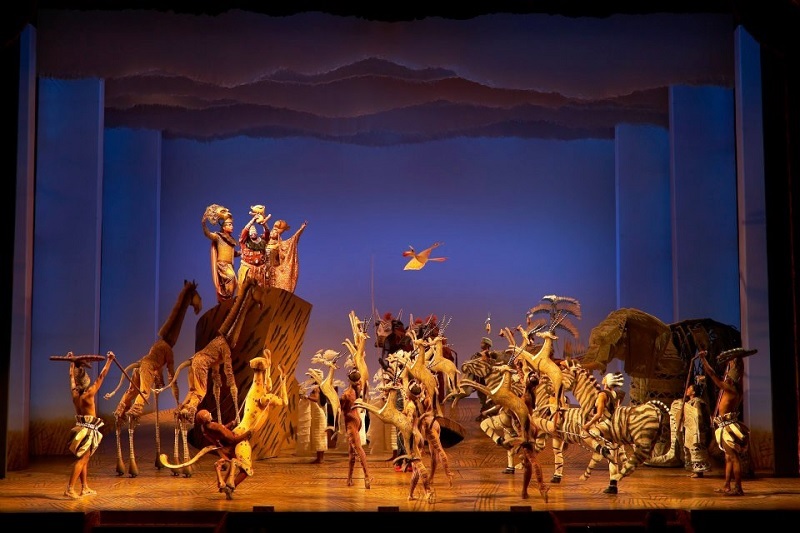 Cheap The Lion King Chicago Tickets
We also have The Lion King Chicago discount coupons. Use discount code " CHICAGO " on checkout and get 3% discount on your The Lion King Chicago tickets.
The Lion King Chicago Characters
Spencer Plachy as Scar
Gerald Ramsey as Mufasa
Gugwana Dlamini as Rafiki
Tony Freeman as Timon
Jürgen Hooper as Zazu
John E. Brady as Pumbaa
Darian Sanders as Simba
Kayla Cyphers as Nala
The Lion King Chicago HighLights
The Lion King was released on June 15, 1994 to positive reviews from critics and was an instant commercial success; it grossed $783 million worldwide against its production budget of $45 million. It is the most successful animated film of all time in terms of Broadway box office receipts and has been seen by over 95 million people worldwide. The musical features songs written by Elton John and Tim Rice, along with a score composed by Hans Zimmer.
The Lion King Cadillac Palace Tickets
The Lion King is coming in Chicago on 12/01/2022 19:30. Dont miss the show at Cadillac Palace Illinois and get your cheap The Lion King Chicago tickets before they get sold.

Cadillac Palace Address: 151 W Randolph Street Chicago 60602 Illinois
Minimum Price: $120.750000


Cadillac Palace Seating Map