Hamilton Chicago Tickets
| | | |
| --- | --- | --- |
| Hamilton Chicago, Illinois at Nederlander Theatre at Ford Center for the Performing Arts | 12/03/2023 14:00 | View Tickets |
| Hamilton Chicago, Illinois at Nederlander Theatre at Ford Center for the Performing Arts | 12/05/2023 19:30 | View Tickets |
| Hamilton Chicago, Illinois at Nederlander Theatre at Ford Center for the Performing Arts | 12/06/2023 13:30 | View Tickets |
| Hamilton Chicago, Illinois at Nederlander Theatre at Ford Center for the Performing Arts | 12/06/2023 19:30 | View Tickets |
| Hamilton Chicago, Illinois at Nederlander Theatre at Ford Center for the Performing Arts | 12/07/2023 19:30 | View Tickets |
| Hamilton Chicago, Illinois at Nederlander Theatre at Ford Center for the Performing Arts | 12/08/2023 19:30 | View Tickets |
| Hamilton Chicago, Illinois at Nederlander Theatre at Ford Center for the Performing Arts | 12/09/2023 14:00 | View Tickets |
| Hamilton Chicago, Illinois at Nederlander Theatre at Ford Center for the Performing Arts | 12/09/2023 20:00 | View Tickets |
| Hamilton Chicago, Illinois at Nederlander Theatre at Ford Center for the Performing Arts | 12/10/2023 14:00 | View Tickets |
| Hamilton Chicago, Illinois at Nederlander Theatre at Ford Center for the Performing Arts | 12/12/2023 19:30 | View Tickets |
| Hamilton Chicago, Illinois at Nederlander Theatre at Ford Center for the Performing Arts | 12/13/2023 13:30 | View Tickets |
| Hamilton Chicago, Illinois at Nederlander Theatre at Ford Center for the Performing Arts | 12/13/2023 19:30 | View Tickets |
| Hamilton Chicago, Illinois at Nederlander Theatre at Ford Center for the Performing Arts | 12/14/2023 19:30 | View Tickets |
| Hamilton Chicago, Illinois at Nederlander Theatre at Ford Center for the Performing Arts | 12/15/2023 19:30 | View Tickets |
| Hamilton Chicago, Illinois at Nederlander Theatre at Ford Center for the Performing Arts | 12/16/2023 14:00 | View Tickets |
| Hamilton Chicago, Illinois at Nederlander Theatre at Ford Center for the Performing Arts | 12/16/2023 20:00 | View Tickets |
| Hamilton Chicago, Illinois at Nederlander Theatre at Ford Center for the Performing Arts | 12/17/2023 14:00 | View Tickets |
| Hamilton Chicago, Illinois at Nederlander Theatre at Ford Center for the Performing Arts | 12/19/2023 19:30 | View Tickets |
| Hamilton Chicago, Illinois at Nederlander Theatre at Ford Center for the Performing Arts | 12/20/2023 13:30 | View Tickets |
| Hamilton Chicago, Illinois at Nederlander Theatre at Ford Center for the Performing Arts | 12/20/2023 19:30 | View Tickets |
| Hamilton Chicago, Illinois at Nederlander Theatre at Ford Center for the Performing Arts | 12/21/2023 19:30 | View Tickets |
| Hamilton Chicago, Illinois at Nederlander Theatre at Ford Center for the Performing Arts | 12/22/2023 13:30 | View Tickets |
| Hamilton Chicago, Illinois at Nederlander Theatre at Ford Center for the Performing Arts | 12/22/2023 19:30 | View Tickets |
| Hamilton Chicago, Illinois at Nederlander Theatre at Ford Center for the Performing Arts | 12/23/2023 14:00 | View Tickets |
| Hamilton Chicago, Illinois at Nederlander Theatre at Ford Center for the Performing Arts | 12/23/2023 20:00 | View Tickets |
| Hamilton Chicago, Illinois at Nederlander Theatre at Ford Center for the Performing Arts | 12/26/2023 19:30 | View Tickets |
| Hamilton Chicago, Illinois at Nederlander Theatre at Ford Center for the Performing Arts | 12/27/2023 13:30 | View Tickets |
| Hamilton Chicago, Illinois at Nederlander Theatre at Ford Center for the Performing Arts | 12/27/2023 19:30 | View Tickets |
| Hamilton Chicago, Illinois at Nederlander Theatre at Ford Center for the Performing Arts | 12/28/2023 19:30 | View Tickets |
| Hamilton Chicago, Illinois at Nederlander Theatre at Ford Center for the Performing Arts | 12/29/2023 13:30 | View Tickets |
| Hamilton Chicago, Illinois at Nederlander Theatre at Ford Center for the Performing Arts | 12/29/2023 19:30 | View Tickets |
| Hamilton Chicago, Illinois at Nederlander Theatre at Ford Center for the Performing Arts | 12/30/2023 14:00 | View Tickets |
| Hamilton Chicago, Illinois at Nederlander Theatre at Ford Center for the Performing Arts | 12/30/2023 20:00 | View Tickets |
| Hamilton Chicago, Illinois at Nederlander Theatre at Ford Center for the Performing Arts | 1/02/2024 19:30 | View Tickets |
| Hamilton Chicago, Illinois at Nederlander Theatre at Ford Center for the Performing Arts | 1/03/2024 13:30 | View Tickets |
| Hamilton Chicago, Illinois at Nederlander Theatre at Ford Center for the Performing Arts | 1/03/2024 19:30 | View Tickets |
| Hamilton Chicago, Illinois at Nederlander Theatre at Ford Center for the Performing Arts | 1/04/2024 19:30 | View Tickets |
| Hamilton Chicago, Illinois at Nederlander Theatre at Ford Center for the Performing Arts | 1/05/2024 19:30 | View Tickets |
| Hamilton Chicago, Illinois at Nederlander Theatre at Ford Center for the Performing Arts | 1/06/2024 14:00 | View Tickets |
| Hamilton Chicago, Illinois at Nederlander Theatre at Ford Center for the Performing Arts | 1/06/2024 20:00 | View Tickets |
| Hamilton Chicago, Illinois at Nederlander Theatre at Ford Center for the Performing Arts | 1/07/2024 14:00 | View Tickets |
| Hamilton Chicago, Illinois at Nederlander Theatre at Ford Center for the Performing Arts | 1/09/2024 19:30 | View Tickets |
| Hamilton Chicago, Illinois at Nederlander Theatre at Ford Center for the Performing Arts | 1/10/2024 13:30 | View Tickets |
| Hamilton Chicago, Illinois at Nederlander Theatre at Ford Center for the Performing Arts | 1/10/2024 19:30 | View Tickets |
| Hamilton Chicago, Illinois at Nederlander Theatre at Ford Center for the Performing Arts | 1/11/2024 19:30 | View Tickets |
| Hamilton Chicago, Illinois at Nederlander Theatre at Ford Center for the Performing Arts | 1/12/2024 19:30 | View Tickets |
| Hamilton Chicago, Illinois at Nederlander Theatre at Ford Center for the Performing Arts | 1/13/2024 14:00 | View Tickets |
| Hamilton Chicago, Illinois at Nederlander Theatre at Ford Center for the Performing Arts | 1/13/2024 20:00 | View Tickets |
| Hamilton Chicago, Illinois at Nederlander Theatre at Ford Center for the Performing Arts | 1/14/2024 14:00 | View Tickets |
| Hamilton Chicago, Illinois at Nederlander Theatre at Ford Center for the Performing Arts | 1/16/2024 19:30 | View Tickets |
| Hamilton Chicago, Illinois at Nederlander Theatre at Ford Center for the Performing Arts | 1/17/2024 13:30 | View Tickets |
| Hamilton Chicago, Illinois at Nederlander Theatre at Ford Center for the Performing Arts | 1/17/2024 19:30 | View Tickets |
| Hamilton Chicago, Illinois at Nederlander Theatre at Ford Center for the Performing Arts | 1/18/2024 19:30 | View Tickets |
| Hamilton Chicago, Illinois at Nederlander Theatre at Ford Center for the Performing Arts | 1/19/2024 19:30 | View Tickets |
| Hamilton Chicago, Illinois at Nederlander Theatre at Ford Center for the Performing Arts | 1/20/2024 14:00 | View Tickets |
| Hamilton Chicago, Illinois at Nederlander Theatre at Ford Center for the Performing Arts | 1/20/2024 20:00 | View Tickets |
| Hamilton Chicago, Illinois at Nederlander Theatre at Ford Center for the Performing Arts | 1/21/2024 14:00 | View Tickets |
| Hamilton Chicago, Illinois at Nederlander Theatre at Ford Center for the Performing Arts | 1/23/2024 19:30 | View Tickets |
| Hamilton Chicago, Illinois at Nederlander Theatre at Ford Center for the Performing Arts | 1/24/2024 13:30 | View Tickets |
| Hamilton Chicago, Illinois at Nederlander Theatre at Ford Center for the Performing Arts | 1/24/2024 19:30 | View Tickets |
| Hamilton Chicago, Illinois at Nederlander Theatre at Ford Center for the Performing Arts | 1/25/2024 19:30 | View Tickets |
| Hamilton Chicago, Illinois at Nederlander Theatre at Ford Center for the Performing Arts | 1/26/2024 19:30 | View Tickets |
| Hamilton Chicago, Illinois at Nederlander Theatre at Ford Center for the Performing Arts | 1/27/2024 14:00 | View Tickets |
| Hamilton Chicago, Illinois at Nederlander Theatre at Ford Center for the Performing Arts | 1/27/2024 20:00 | View Tickets |
| Hamilton Chicago, Illinois at Nederlander Theatre at Ford Center for the Performing Arts | 1/28/2024 14:00 | View Tickets |
Do you like to see live performance?? Hamilton is coming in Chicago. Buy Hamilton Chicago tickets today and don't miss out the unforgettable Theatre fun in your city.

Tickets4Chicago.com is the best place to get cheap Hamilton Chicago tickets, its tour dates schedule, venue map and tickets prices. We offer 100% buyers guarantee through the SSL secure transaction and you will receive authentic Hamilton Chicago Theatre tickets in time for the event.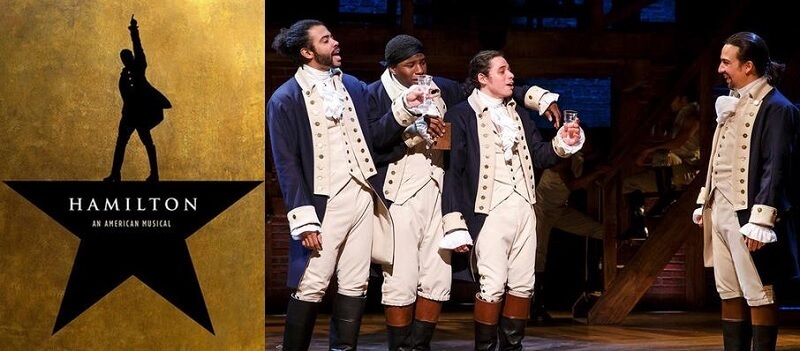 Cheap Hamilton Chicago Theatre Tickets
We also have Hamilton Chicago discount coupons. Use promo discount code " CHICAGO " on checkout and get 3% discount on your Chicago Hamilton tickets.
Hamilton Theatre HighLights
Hamilton Chicago Cast
Jamaal Fields-Green as John Laurens/Phillip Hamilton
Ebrin R. Stanley as Hercules Mulligan/James Madison
Candace Quarrels as Peggy Schuyler/Maria Reynolds
Renee Daniels as Angelica Schuyler
Andrew Cal as King George III
Jamila Sabares-Klemm as Eliza Hamilton
Miguel Cervantes as Alexander Hamilton
Akron Watson as Aaron Burr
Tamar Greene as George Washington
Hamilton Nederlander Theatre at Ford Center for the Performing Arts Tickets
Hamilton is coming in Chicago on 12/03/2023 14:00. Dont miss the show at Nederlander Theatre at Ford Center for the Performing Arts Illinois and get your cheap Hamilton Chicago tickets before they get sold.

Nederlander Theatre at Ford Center for the Performing Arts Address: 24 West Randolph Street Chicago 60601 Illinois
Minimum Price: $62.100000


Nederlander Theatre at Ford Center for the Performing Arts Seating Map