Cadillac Palace hosts a variety of different events all year and some top events are coming up. Buy Cadillac Palace tickets and don't miss out the unforgettable fun in Chicago.

Tickets4Chicago.com is the best place to get cheap Cadillac Palace tickets. You can check Cadillac Palace seating chart, events dates, schedule and tickets prices. We offer 100% buyers guarantee through the SSL secure transaction and you will receive authentic and discount Cadillac Palace tickets in time for the event.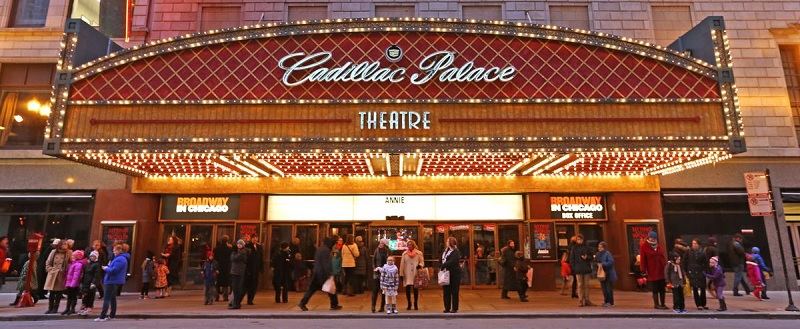 Cheap Cadillac Palace Tickets
We also have Cadillac Palace discount coupon promo code available. Use promo discount code " CHICAGO" on checkout and get 3% extra discount on Cadillac Palace tickets.
Cadillac Palace Tour
Cadillac Palace Info:
The Cadillac Palace Theatre opened as the New Palace Theatre in 1926, built at $12 million. The New Palace Theatre was converted into a rock venue in 1984 and renamed Bismarck Theatre. In 1999 Cadillac purchased the naming rights of the platform and renamed it Cadillac Palace. The palace is operated by Broadway in Chicago and has a maximum seating capacity of 2,344 people. The theatre has allowed many Broadway hits to tour Chicago and has been giving many pre-Broadway hits. The Cadillac Palace has created a significant impact on the economy of Chicago since its opening.
| | | | |
| --- | --- | --- | --- |
| Bob Dylan tickets Cadillac Palace Chicago, Illinois | 10/06/2023 20:00 | $86 | View Tickets |
| Bob Dylan tickets Cadillac Palace Chicago, Illinois | 10/07/2023 20:00 | $80 | View Tickets |
| Bob Dylan tickets Cadillac Palace Chicago, Illinois | 10/08/2023 20:00 | $93 | View Tickets |
| A Wonderful World tickets Cadillac Palace Chicago, Illinois | 10/12/2023 19:30 | $26 | View Tickets |
| A Wonderful World tickets Cadillac Palace Chicago, Illinois | 10/13/2023 19:30 | $80 | View Tickets |
| A Wonderful World tickets Cadillac Palace Chicago, Illinois | 10/14/2023 14:00 | $35 | View Tickets |
| A Wonderful World tickets Cadillac Palace Chicago, Illinois | 10/14/2023 20:00 | $51 | View Tickets |
| A Wonderful World tickets Cadillac Palace Chicago, Illinois | 10/15/2023 14:00 | $41 | View Tickets |
| A Wonderful World tickets Cadillac Palace Chicago, Illinois | 10/15/2023 19:30 | $39 | View Tickets |
| A Wonderful World tickets Cadillac Palace Chicago, Illinois | 10/17/2023 19:30 | $44 | View Tickets |
| A Wonderful World tickets Cadillac Palace Chicago, Illinois | 10/18/2023 14:00 | $43 | View Tickets |
| A Wonderful World tickets Cadillac Palace Chicago, Illinois | 10/18/2023 19:30 | $71 | View Tickets |
| A Wonderful World tickets Cadillac Palace Chicago, Illinois | 10/19/2023 19:30 | $26 | View Tickets |
| A Wonderful World tickets Cadillac Palace Chicago, Illinois | 10/20/2023 19:30 | $43 | View Tickets |
| A Wonderful World tickets Cadillac Palace Chicago, Illinois | 10/21/2023 14:00 | $41 | View Tickets |
| A Wonderful World tickets Cadillac Palace Chicago, Illinois | 10/21/2023 20:00 | $80 | View Tickets |
| A Wonderful World tickets Cadillac Palace Chicago, Illinois | 10/22/2023 14:00 | $35 | View Tickets |
| A Wonderful World tickets Cadillac Palace Chicago, Illinois | 10/24/2023 19:30 | $43 | View Tickets |
| A Wonderful World tickets Cadillac Palace Chicago, Illinois | 10/25/2023 14:00 | $73 | View Tickets |
| A Wonderful World tickets Cadillac Palace Chicago, Illinois | 10/25/2023 19:30 | $71 | View Tickets |
| A Wonderful World tickets Cadillac Palace Chicago, Illinois | 10/26/2023 19:30 | $73 | View Tickets |
| A Wonderful World tickets Cadillac Palace Chicago, Illinois | 10/27/2023 19:30 | $36 | View Tickets |
| A Wonderful World tickets Cadillac Palace Chicago, Illinois | 10/28/2023 14:00 | $82 | View Tickets |
| A Wonderful World tickets Cadillac Palace Chicago, Illinois | 10/28/2023 20:00 | $80 | View Tickets |
| A Wonderful World tickets Cadillac Palace Chicago, Illinois | 10/29/2023 14:00 | $80 | View Tickets |
| Company - The Musical tickets Cadillac Palace Chicago, Illinois | 10/31/2023 19:30 | $50 | View Tickets |
| Company: A Musical Comedy tickets Cadillac Palace Chicago, Illinois | 11/01/2023 19:30 | $51 | View Tickets |
| Company - The Musical tickets Cadillac Palace Chicago, Illinois | 11/02/2023 19:30 | $41 | View Tickets |
| Company - The Musical tickets Cadillac Palace Chicago, Illinois | 11/03/2023 19:30 | $46 | View Tickets |
| Company - The Musical tickets Cadillac Palace Chicago, Illinois | 11/04/2023 14:00 | $52 | View Tickets |
| Company - The Musical tickets Cadillac Palace Chicago, Illinois | 11/04/2023 20:00 | $57 | View Tickets |
| Company: A Musical Comedy tickets Cadillac Palace Chicago, Illinois | 11/05/2023 14:00 | $51 | View Tickets |
| Company - The Musical tickets Cadillac Palace Chicago, Illinois | 11/05/2023 19:30 | $51 | View Tickets |
| Company - The Musical tickets Cadillac Palace Chicago, Illinois | 11/07/2023 19:30 | $59 | View Tickets |
| Company - The Musical tickets Cadillac Palace Chicago, Illinois | 11/08/2023 14:00 | $59 | View Tickets |
| Company - The Musical tickets Cadillac Palace Chicago, Illinois | 11/08/2023 19:30 | $54 | View Tickets |
| Company - The Musical tickets Cadillac Palace Chicago, Illinois | 11/09/2023 19:30 | $36 | View Tickets |
| Company - The Musical tickets Cadillac Palace Chicago, Illinois | 11/10/2023 19:30 | $49 | View Tickets |
| Company - The Musical tickets Cadillac Palace Chicago, Illinois | 11/11/2023 14:00 | $43 | View Tickets |
| Company - The Musical tickets Cadillac Palace Chicago, Illinois | 11/11/2023 20:00 | $73 | View Tickets |
| Company - The Musical tickets Cadillac Palace Chicago, Illinois | 11/12/2023 14:00 | $49 | View Tickets |
| Company - The Musical tickets Cadillac Palace Chicago, Illinois | 11/12/2023 19:30 | $182 | View Tickets |
| The Illusionists tickets Cadillac Palace Chicago, Illinois | 11/21/2023 19:30 | $49 | View Tickets |
| The Illusionists tickets Cadillac Palace Chicago, Illinois | 11/22/2023 14:00 | $54 | View Tickets |
| The Illusionists tickets Cadillac Palace Chicago, Illinois | 11/22/2023 19:30 | $54 | View Tickets |
| The Illusionists tickets Cadillac Palace Chicago, Illinois | 11/24/2023 14:00 | $63 | View Tickets |
| The Illusionists tickets Cadillac Palace Chicago, Illinois | 11/24/2023 19:30 | $63 | View Tickets |
| The Illusionists tickets Cadillac Palace Chicago, Illinois | 11/25/2023 20:00 | $63 | View Tickets |
| The Illusionists tickets Cadillac Palace Chicago, Illinois | 11/26/2023 14:00 | $63 | View Tickets |
| The Wiz tickets Cadillac Palace Chicago, Illinois | 11/28/2023 19:30 | $71 | View Tickets |
| The Wiz tickets Cadillac Palace Chicago, Illinois | 11/29/2023 19:30 | $73 | View Tickets |
| The Wiz tickets Cadillac Palace Chicago, Illinois | 11/30/2023 19:30 | $71 | View Tickets |
| The Wiz tickets Cadillac Palace Chicago, Illinois | 12/01/2023 19:30 | $77 | View Tickets |
| The Wiz tickets Cadillac Palace Chicago, Illinois | 12/02/2023 14:00 | $89 | View Tickets |
| The Wiz tickets Cadillac Palace Chicago, Illinois | 12/02/2023 20:00 | $92 | View Tickets |
| The Wiz tickets Cadillac Palace Chicago, Illinois | 12/03/2023 14:00 | $92 | View Tickets |
| The Wiz tickets Cadillac Palace Chicago, Illinois | 12/03/2023 19:30 | $68 | View Tickets |
| The Wiz tickets Cadillac Palace Chicago, Illinois | 12/05/2023 19:30 | $74 | View Tickets |
| The Wiz tickets Cadillac Palace Chicago, Illinois | 12/06/2023 14:00 | $92 | View Tickets |
| The Wiz tickets Cadillac Palace Chicago, Illinois | 12/06/2023 19:30 | $64 | View Tickets |
| The Wiz tickets Cadillac Palace Chicago, Illinois | 12/07/2023 19:30 | $31 | View Tickets |
| The Wiz tickets Cadillac Palace Chicago, Illinois | 12/08/2023 19:30 | $49 | View Tickets |
| The Wiz tickets Cadillac Palace Chicago, Illinois | 12/09/2023 14:00 | $55 | View Tickets |
| The Wiz tickets Cadillac Palace Chicago, Illinois | 12/09/2023 20:00 | $83 | View Tickets |
| The Wiz tickets Cadillac Palace Chicago, Illinois | 12/10/2023 14:00 | $64 | View Tickets |
| The Hip Hop Nutcracker tickets Cadillac Palace Chicago, Illinois | 12/12/2023 19:30 | $71 | View Tickets |
| The Hip Hop Nutcracker tickets Cadillac Palace Chicago, Illinois | 12/13/2023 14:00 | $71 | View Tickets |
| The Hip Hop Nutcracker tickets Cadillac Palace Chicago, Illinois | 12/13/2023 19:30 | $71 | View Tickets |
| The Hip Hop Nutcracker tickets Cadillac Palace Chicago, Illinois | 12/14/2023 19:30 | $71 | View Tickets |
| The Hip Hop Nutcracker tickets Cadillac Palace Chicago, Illinois | 12/15/2023 19:30 | $71 | View Tickets |
| The Hip Hop Nutcracker tickets Cadillac Palace Chicago, Illinois | 12/16/2023 14:00 | $80 | View Tickets |
| The Hip Hop Nutcracker tickets Cadillac Palace Chicago, Illinois | 12/16/2023 20:00 | $71 | View Tickets |
| The Hip Hop Nutcracker tickets Cadillac Palace Chicago, Illinois | 12/17/2023 14:00 | $71 | View Tickets |
| How The Grinch Stole Christmas tickets Cadillac Palace Chicago, Illinois | 12/19/2023 19:30 | $71 | View Tickets |
| How The Grinch Stole Christmas tickets Cadillac Palace Chicago, Illinois | 12/20/2023 14:00 | $71 | View Tickets |
| How The Grinch Stole Christmas tickets Cadillac Palace Chicago, Illinois | 12/20/2023 19:30 | $71 | View Tickets |
| How The Grinch Stole Christmas tickets Cadillac Palace Chicago, Illinois | 12/21/2023 19:30 | $71 | View Tickets |
| How The Grinch Stole Christmas tickets Cadillac Palace Chicago, Illinois | 12/22/2023 19:30 | $80 | View Tickets |
| How The Grinch Stole Christmas tickets Cadillac Palace Chicago, Illinois | 12/23/2023 14:00 | $94 | View Tickets |
| How The Grinch Stole Christmas tickets Cadillac Palace Chicago, Illinois | 12/23/2023 20:00 | $80 | View Tickets |
| How The Grinch Stole Christmas tickets Cadillac Palace Chicago, Illinois | 12/24/2023 14:00 | $80 | View Tickets |
| How The Grinch Stole Christmas tickets Cadillac Palace Chicago, Illinois | 12/26/2023 19:30 | $88 | View Tickets |
| How The Grinch Stole Christmas tickets Cadillac Palace Chicago, Illinois | 12/27/2023 14:00 | $80 | View Tickets |
| How The Grinch Stole Christmas tickets Cadillac Palace Chicago, Illinois | 12/27/2023 19:30 | $80 | View Tickets |
| How The Grinch Stole Christmas tickets Cadillac Palace Chicago, Illinois | 12/28/2023 19:30 | $80 | View Tickets |
| How The Grinch Stole Christmas tickets Cadillac Palace Chicago, Illinois | 12/29/2023 19:30 | $88 | View Tickets |
| How The Grinch Stole Christmas tickets Cadillac Palace Chicago, Illinois | 12/30/2023 14:00 | $88 | View Tickets |
| How The Grinch Stole Christmas tickets Cadillac Palace Chicago, Illinois | 12/30/2023 20:00 | $88 | View Tickets |
| How The Grinch Stole Christmas tickets Cadillac Palace Chicago, Illinois | 12/31/2023 14:00 | $88 | View Tickets |
Bob Dylan Cadillac Palace Seating Chart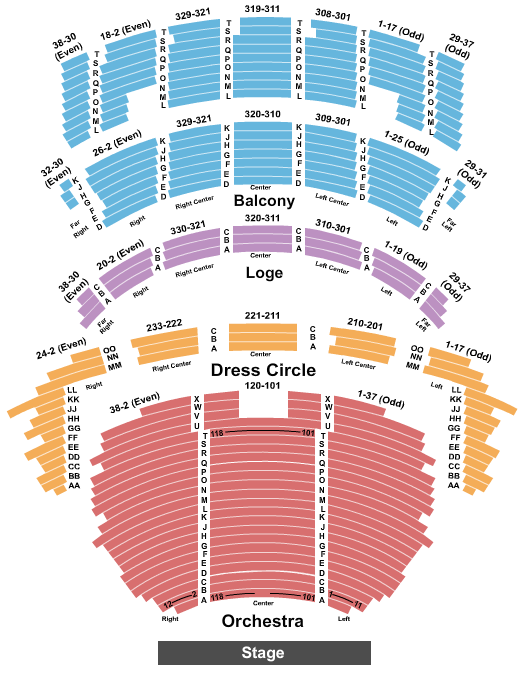 Tickets for Bob Dylan Chicago
Venue: Cadillac Palace - Use Bob Dylan Cadillac Palace discount coupon " CHICAGO " and buy discount Bob Dylan Chicago tickets.
Cheap Chicago Bob Dylan Tickets Price | Price: $86.779000

Tickets for A Wonderful World Chicago
Venue: Cadillac Palace - Use A Wonderful World Cadillac Palace discount coupon " CHICAGO " and buy discount A Wonderful World Chicago tickets.
Cheap Chicago A Wonderful World Tickets Price | Price: $26.450000

Tickets for Company - The Musical Chicago
Venue: Cadillac Palace - Use Company - The Musical Cadillac Palace discount coupon " CHICAGO " and buy discount Company - The Musical Chicago tickets.
Cheap Chicago Company - The Musical Tickets Price | Price: $50.600000

Tickets for Company: A Musical Comedy Chicago
Venue: Cadillac Palace - Use Company: A Musical Comedy Cadillac Palace discount coupon " CHICAGO " and buy discount Company: A Musical Comedy Chicago tickets.
Cheap Chicago Company: A Musical Comedy Tickets Price | Price: $51.750000

Tickets for The Illusionists Chicago
Venue: Cadillac Palace - Use The Illusionists Cadillac Palace discount coupon " CHICAGO " and buy discount The Illusionists Chicago tickets.
Cheap Chicago The Illusionists Tickets Price | Price: $54.050000

Tickets for The Wiz Chicago
Venue: Cadillac Palace - Use The Wiz Cadillac Palace discount coupon " CHICAGO " and buy discount The Wiz Chicago tickets.
Cheap Chicago The Wiz Tickets Price | Price: $73.600000

Tickets for The Hip Hop Nutcracker Chicago
Venue: Cadillac Palace - Use The Hip Hop Nutcracker Cadillac Palace discount coupon " CHICAGO " and buy discount The Hip Hop Nutcracker Chicago tickets.
Cheap Chicago The Hip Hop Nutcracker Tickets Price | Price: $71.300000

Tickets for How The Grinch Stole Christmas Chicago
Venue: Cadillac Palace - Use How The Grinch Stole Christmas Cadillac Palace discount coupon " CHICAGO " and buy discount How The Grinch Stole Christmas Chicago tickets.
Cheap Chicago How The Grinch Stole Christmas Tickets Price | Price: $71.300000